Shelby Adrift: Feature Friday
We have affiliate agreements with certain brands and companies. If you purchase items or click on links through this site, we might get a kickback from those brands or companies. This doesn't affect you or what you pay in any way, but it does help fund our journey - so thank you!
Today's Feature Friday, Shelby Adrift, is a super special one for a couple of reasons. For one, it's our very first feature that isn't a skoolie! While skoolies are obviously our main jam, there is a whole wide world of tiny homes on wheels out there to explore and discover! I kept seeing vans and RVs and military trucks and ambulances and all kinds of other converted tiny homes I loved, and the other day I thought, "Who said we could only feature buses? I want to feature them all!"
And so we are!
Secondly, this Feature Friday is near and dear to me because I'm kicking off this new series of features with one of my absolute favorite people on the 'Gram. She's absolutely hilarious, posts everything from the most gorgeous shots you'll ever see to outtakes of balancing her tripod on packets of Ramen in front of the neighbors and is one of the most genuinely kind people I've had the pleasure of "meeting" on the platform.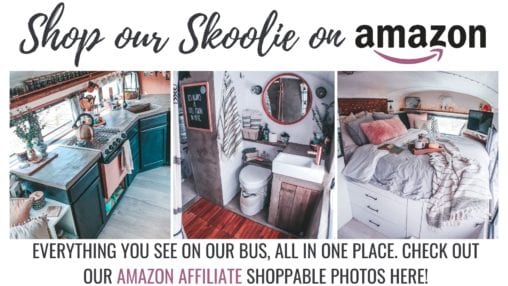 And then there's her renovated RV with its breezy beach bum vibes. While we're a little more mountain-modern boho around here, her style sings a siren song to the part of my heart that's always longed to live by the ocean. Since I can't sink my toes into the sand every day, I like to live vicariously through the Shelby Adrift account whenever I'm missing the beach – and after seeing her little boho cottage on wheels that she shares with husband Roost and baby Cliff, I think you will too!
IT'S ALL IN THE DETAILS
This RV's superpower, in my opinion, is in the details. Every single corner and shelf and wall is thoughtfully designed and decorated. This is of course partly practical – in a tiny home, every spare inch of space counts. But the overall effect is also insanely beautiful and artfully curated. While Shelby frequently does behind-the-scenes stories that show the DIY projects that didn't quite work out and the days where stuff is everywhere, her home is a testament to careful curation and her attention to detail.
View this post on Instagram
A DREAMY BEDROOM
This bedroom is a boho beach lover's dream. The couple recently remodeled this room and shared a pretty amazing DIY in which they turned a gorgeous wood room divider/screen into their headboard. The end result was stunning. And the best part? Being thrifty people, they used the remaining pieces of the divider to create other bespoke furniture, including a dog bed and our next featured point!
View this post on Instagram
ROOM FOR BABY
That's right – baby Cliff's crib is made from the other half of the screen! Not only does it tie the whole room together, it's also about the dreamiest crib setup I've ever seen. The best part is that this crib moves! The couple thoughtfully designed it to be portable with only three walls. They can pull it up right next to their bed for easy nighttime access, but next to the wall, it creates a normal crib space.
View this post on Instagram
THAT KITCHEN THO
Shelby Adrift's tiny kitchen with its retro vibe is one of my favorites. The blue/green fridge, in particular, is perfect in the space. Between the open shelving, shiplap walls, and tea towels turned curtains, we don't think there's anything not to love about this little kitchen. I especially love the jute rug.
View this post on Instagram
FLEXIBLE LIVING SPACE
One thing you'll notice as you tour Shelby's feed is that her home seems to change a lot – because it does! Their living area is set up in such a way that little changes here and there to the decor create an impact that makes the space seem constantly new. Every season has its own decor, and no two photos of the same space look alike. I especially love how open it feels, a challenge when designing in such a small space.
View this post on Instagram
AND A WORKSPACE
Who wouldn't want to sit at this little desk and work? As I'm writing this, we're sitting in Montana where the high temps for the next week are all negative numbers. Winter in a skoolie isn't always fun. And the thought of working at this gorgeous little desk, the sun setting behind the ocean out the window, sounds like heaven to me. And again, look at all those details!
View this post on Instagram
SHELBY ADRIFT
I'm obviously biased, but Shelby's little RV by the ocean is one of the best renovations out there. Want to see more? Head over to her Instagram and check it out!
And as always, if there's a skoolie, van, RV, or anything in between you think we need to feature, email us at info@sincewewokeup.com!