We have affiliate agreements with certain brands and companies. If you purchase items or click on links through this site, we might get a kickback from those brands or companies. This doesn't affect you or what you pay in any way, but it does help fund our journey - so thank you!
Today for Feature Friday we're highlighting a skoolie we've been waiting to feature almost the whole time it was being built – Just Another Skoolie!
Months ago, I saw a photo of their bedroom headboard in progress, and I knew this conversion was going to be an awesome one. Finally finished, and about to hit the road for the first time, I can finally showcase this beautiful tiny home on wheels!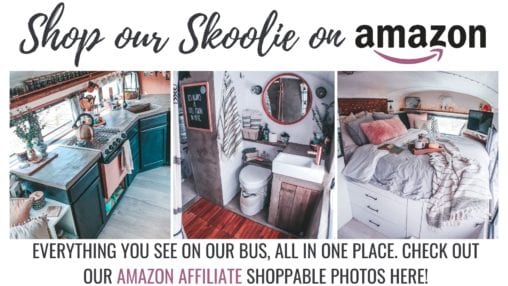 Keep reading to see not just that super artistic headboard I mentioned, but the rest of this amazing skoolie from @justanotherskoolie!
LET'S START WITH THAT HEADBOARD
Since it was the very first thing to catch my attention, let's start in the bedroom with this amazing bespoke headboard. The snowy mountain scene is beautifully done, a mix of artful wood design and paint. But then they took it up a notch by adding built-in shelving and art gallery style lighting to set the whole thing off.
View this post on Instagram
IT'S ALL ABOUT THE KITCHEN
This kitchen is all about details. From the black epoxy countertops to the gorgeous tile work, there is a beautiful attention to them in this build. The sleek black appliances fit right into the design, and we love how the stove has a lid that closes. Plus, this build has two fridges – one full-size and a smaller one just for beer!
View this post on Instagram
THE DOGHOUSE
Ever heard the joke about having your significant other sleeping in the doghouse? In this build, that could be a reality. With two Great Danes (so you know we had to love them even if their build wasn't gorgeous) to think about, they built a literal doghouse under their bed! So clever, and so cute.
View this post on Instagram
THE DARK CEILING
Plank wood ceilings with sunken lighting aren't new in the skoolie community, but this dark wood one is beautifully done and sets off the white and black of the decor perfectly. And with a raised roof there's no worry the dark wood will make it feel confining.
View this post on Instagram
THE SHOWER
Of course we had to love this shower, as they used the same wood tiles we did in our build! Paired with sleek white tiles and modern black fixture, this shower may be tiny, but it's big on style.
View this post on Instagram
JUST ANOTHER SKOOLIE
Just Another Skoolie is, as the name implies, just another of thousands of converted buses – but it's another one that shows just how unique each truly is. From beer fridge to dog house, this tiny home on wheels shoes the style and personality of the family aboard it. See more of their build on Instagram at @justanotherskoolie.
Have a skoolie, van, or RV conversion you think we should feature? Email us at info@sincewewokeup.com!