Kels and Jay: Skoolie Feature Friday
We have affiliate agreements with certain brands and companies. If you purchase items or click on links through this site, we might get a kickback from those brands or companies. This doesn't affect you or what you pay in any way, but it does help fund our journey - so thank you!
Today's Feature Friday is one newly near and dear to us, Kels and Jay!
As I write this, I'm staring out my window at their colorful skoolie. We stumbled upon them and fellow nomad Alex (look for a follow-up feature!) in the desert of Arizona and had the opportunity to spend some time getting to know this lovely couple.
Originally from England, Jay followed Kels over to the states after college, where she was playing basketball, and together they built Bessy, a school bus conversion designed for their life on the road shooting tiny home tours for Tiny House, Giant Journey. They share Bessy with Pippa, a cat who loves her little home on wheels.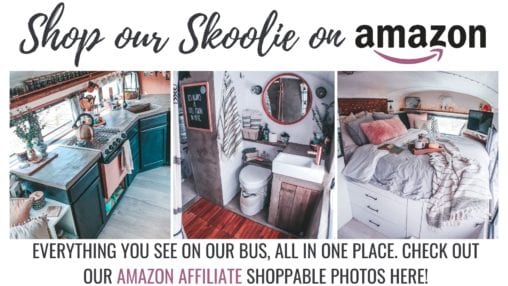 Keep reading to learn more about Bessy and her crew!
A FRONT-TO-BACK OPEN LAYOUT
One of the couple's favorite features is that they can see the entire bus laying in their bed. Notwithstanding that Bessy features a roof raise that really opens the space up, the center aisle floor plan with no walls cutting through it means they kept every free inch of space available. A living space with a couch, work area, and kitchen dominate the front, and the back is split between the bathroom and bed.
View this post on Instagram
PLENTY OF WORKSPACE FOR THEIR VIDEOGRAPHY GIG
Speaking of workspaces, theirs is genius. What appears at first to be a thin sidebar flips open to become a large bar area where they can comfortably sit side by side creating. When they aren't using it, a quick fold halves the space it takes up and the barstools tuck under to make the living area feel larger.
View this post on Instagram
THAT HEADBOARD
Having recently added a geometric-styled wall to our own skoolie floor plan, we're obviously fans. But this headboard takes it to the next level. The different colors and intricate patterns come together to create a unique piece of art. We especially love how you see it immediately when you walk into the bus.
View this post on Instagram
PERSONALITY FOR DAYS
So this isn't exactly part of their build, but I can tell you that part of the reason you should follow Bessy is her crew. Kels and Jay are a hell of a good time, and we laughed for hours in the time we spent with them. We've met very few bus people we didn't like, but these two have open hearts, a quick wit, and the ability to truly and deeply enjoy the world and people around them, from what we've seen. The bus is gorgeous, but you'll love the people who call it home.
View this post on Instagram
A PAINT JOB THAT STANDS OUT
Most of the time, a bus's exterior is the first impression and people learn through social media what each looks like. Some, however, like ours, have a fairly generic paint job and can be easily misidentified at a glance. That just isn't possible with Bessy's unique and colorful geometric patterning. The moment we pulled into this particular patch of desert, we knew exactly who we were driving up on, and we love the creativity and work that went into this amazing exterior.
View this post on Instagram
IT'S ALL ABOUT PIPPA
Let's not forget about Pippa. It's not every bus that comes standard with a guard cat. While a little shy around new people, Pippa seems to love her little home and bus life. Kels says that she doesn't always appreciate the bumpy roads, but once they arrive at each new destination she makes it her own and fully relaxes into her little kingdom on wheels.
View this post on Instagram
KELS AND JAY
If you're looking for bus life inspiration, Bessy is beautiful. And if you're looking for inspiration in general, people don't come in much higher caliber than Kels and Jay, from what we've seen. They release weekly videos on YouTube, Instagram, and TikTok, and trust me – you won't encounter a dull moment.
Have a skoolie, van, or RV you think we should feature? Tell us! Email us at info@sincewewokeup.com with your recommendations and questions.