The Arrow Anglers: Skoolie Feature Friday
We have affiliate agreements with certain brands and companies. If you purchase items or click on links through this site, we might get a kickback from those brands or companies. This doesn't affect you or what you pay in any way, but it does help fund our journey - so thank you!
The Arrow Anglers have one of my current favorite new skoolies on the scene, AKA @the.butter.bus. Featuring an amazing blend of colors, patterns, and texture, this newly finished tiny home on wheels is super adorable and perfect for the family of four that calls it home.
Putting bold colors in a tiny space can be risky, as it can both close off a space and make it feel cluttered. The clever use of it in this bus, however, draws your attention and offers artistic flair while not overwhelming.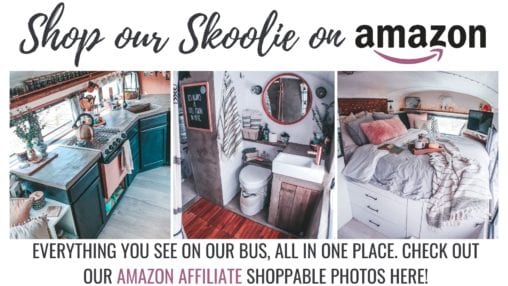 Plus, any bus that sports a mural in its exterior paint job? I can get behind that, especially when it's done so well! Keep reading to see our favorite elements of the Butter Bus!
THAT MURAL DOOR
Okay, the obvious showstopper of this bus is that amazing door that separates the living area from the bedrooms. The first time I saw it, I literally stopped mid-scroll in my feed and just stared in wonder. Functional art at its finest, this door allows a pop of gorgeous bright and bold colors without completely overwhelming the space. Instead, it flows perfectly with the more subtle green, white, and wood tones that flow through the bus. I think it might be the prettiest doors I've seen on a bus, and we've featured some really cool ones!
View this post on Instagram
AN EXTERIOR PAINT JOB TO DROOL OVER
Many buses choose to go with a very neutral exterior paint job to stay a little more lowkey. As a matter of fact, we chose to go with a solid white paint job after finding out many RV parks won't accept buses that don't blend in! However, I can't see an RV park turning down this gorgeous bus even with its more colorful exterior. Between the dual-toned paint, the gorgeous mountain mural, and the wood strip running through it all, this bus is more attractive than most Class A RVs we've seen!
View this post on Instagram
BLENDING PATTERNS AND COLORS
As this photo of the bathroom shows, a clever blend of textures, patterns, colors, materials, and fixtures makes this tiny space come alive. I've never been a fan of gold fixtures, but the matte finish on these is stunning, especially paired with blue/green tiles, raw wood, and plant-laden wallpaper. It takes a keen design eye to blend pattern and color so well, and I'm digging the finished product.
View this post on Instagram
A SHOWER WITH A VIEW AND A MESSAGE
Instead of a full roof raise, the Arrow Anglers added height where it was most needed – in the shower. And they didn't just raise the roof, they opened it into a skylight! Can you imagine showering with a full view of the sky as your ceiling? In a further stroke of design genius, they made their shower a message board with white vinyl stickers on top of the tiles, meaning even the shower got festive when Christmas time came around!
View this post on Instagram
THAT HEADBOARD
Having just put in a similar wall in our build, I am fully in love with these single-color geometric designed walls. And as a headboard with sconces? Double in love. While I love having more of a full bedroom in our own skoolie layout, this bed looks so perfectly cozy I don't think I would mind not having the additional space. Plus, check out their IG profile to see how cute the kids' bunks are!
View this post on Instagram
THE ARROW ANGLERS
Want to see more of the Arrow Anglers? Check them out on their Instagram @thearrowanglers or the bus page, @the.butter.bus!
Have a skoolie you think we need to feature? Let us know at info@sincewewokeup.com!