We have affiliate agreements with certain brands and companies. If you purchase items or click on links through this site, we might get a kickback from those brands or companies. This doesn't affect you or what you pay in any way, but it does help fund our journey - so thank you!
Today's Feature Friday, Indigo and Olive, is one I'm just blown away by. I'm not sure I've seen another skoolie that feels so natural and "home-like" as this one. The vibe here is Mediterranean, minimalist, and clean. Lots of natural textures, a simple layout, and beautiful light filtering in all around.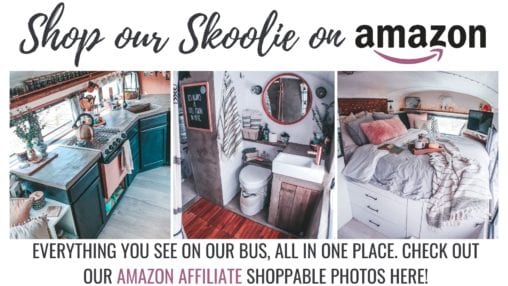 Take a look at the photos below to see exactly what I mean. I bet you'll be just as blown away to realize that this is all inside a school bus as we were!
AN OPEN FLOOR PLAN
If you've followed us for any length of time, you know we love an open floor plan in a skoolie. And this one is about the most perfect we've seen. Even in areas like the back where a center aisle comes into play, the thoughtful layout means it still doesn't feel closed off even with the hallway.
View this post on Instagram
A CAVELIKE BATHROOM WITH A TUB
This tub is next-level awesome and looks like it could be in a typical home somewhere. The Lime Wash paint they used throughout their build lends to the Mediterranean vibe they've achieved and really makes this bathroom feel like a spa grotto. Plus, seashells lined up along the wall? Perfection.
View this post on Instagram
AND A CAVELIKE BEDROOM
The Lime Wash paint and curved lines that give the bathroom its cozy feel are carried on into the bedroom. This could be the most peaceful and minimalist bedroom we've ever seen, especially in a skoolie, and we are loving it so much! Can you imagine waking up in this serene little bedroom to that natural light filtering in? Amazing.
View this post on Instagram
A WOOD STOVE WITH AN OUTSIDE PIPE
It took us a minute to figure out why this stove seems much cleaner and minimalistic than others. We realized they achieved it by running the pipes outside the bus instead of inside, allowing the stove to feel like it's just floating in the space instead of being tethered to it. And wow, does it make a difference in the overall vibe.
View this post on Instagram
DESIGN DETAILS TO DROOL OVER
The wood-slatted walls and cupboards, varied textures and finishes, and appliances and fixtures like this one come together to form a stunning build. Added layers of textures turned it into a beautiful little home on wheels. From the bathroom sink shown here with its wood basin to the sleek appliances to plants sprinkled liberally throughout, it appears no corner was left unthought about.
View this post on Instagram
INDIGO AND OLIVE
Want to see more of Indigo and Olive? Check them and their build out on their Instagram @_indigo_and_olive_!
Have a skoolie you think we should feature? Tell us at info@sincewewokeup.com!