The Dixie Tribe: Skoolie Feature Friday
We have affiliate agreements with certain brands and companies. If you purchase items or click on links through this site, we might get a kickback from those brands or companies. This doesn't affect you or what you pay in any way, but it does help fund our journey - so thank you!
This week for Feature Friday we're featuring The Dixie Tribe – a skoolie from Bristol, England that masters the breezy cottage vibe and provides the perfect space for the family of four that calls it home.
Perhaps the coolest part of this skoolie is the unique way they built their sleeping spaces. When building a skoolie with kids in mind, most people turn to space-saving bunk beds to get the job done. But Rachel and Sam, the bus's owners, had a different idea that instead gave their little ones the most awesome tiny bedroom ever!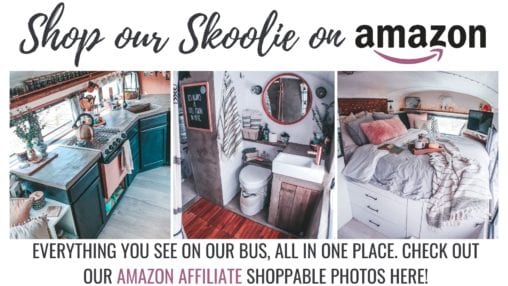 Keep reading to learn more about the crew called the Dixie Tribe and their skoolie!
AN OPEN FLOOR PLAN
Skoolie floor plans vary so much, as they're very dependent on the needs of each family. We've seen skoolies that had huge workbenches for the owner's business or were actually stores or studios on wheels, skoolies that have multiple bunk bed systems because of a large family sharing the space, and even skoolies that travel with interesting animal companions like chickens and goats.
The Dixie Tribe crew has a bus with a very open floor plan, perfect for a family with little ones that need space to run around and play. Plus, the butcher block countertops and open shelving in this kitchen? Perfection.
View this post on Instagram
THAT BEDROOM I MENTIONED
Welcome to the shared bedroom space of Rachel, Sam, and their little ones. Instead of the bunks you usually see on buses where children live, they created a little bedroom/den under their bed! Their newest addition sleeps in a bassinet next to their bed, keeping mom and dad close at hand for those middle of the night wake up calls. Can you imagine being a toddler with a permanent fort for your bedroom? Epic.
View this post on Instagram
AMPLE ROOM FOR FAMILY TIME
From the kitchen looking forward, you can see the couch that turns into a double bed and this cool hammock swing. By not adding too much to the front, they kept that really open, light feeling and left plenty of space for family activities. Many builds feel a little cramped, but this one looks like there's tons of room for family game nights and toys strewn across the floor. Plus, we love those wood floors!
View this post on Instagram
THOSE CUPBOARDS
The cupboards in this build are one of my favorite features. The rattan fronts add the perfect pop of warmth to the white wood, and what would have been a rather boring-looking hallway becomes a feature wall instead. Plus, storage is always an issue when you live in a tiny home, so having so much of it in such an easy-to-access way is brilliant.
View this post on Instagram
A SIMPLE BATHROOM WITH A MINI TUB
Their little bathroom with a homemade composting toilet and tiled shower is just perfect, especially because they paired it with a sunken shower pan that offers the cutest little bathtub for the kids to splash around in! Sometimes, simple is best, and this charming little bathroom proves it.
View this post on Instagram
LITTLE HOMEY TOUCHES
This photo, to me, effectively sums up what we love about this build so much. Charming, homey touches, a breezy boho cottage vibe, and simple finishes create a warm little skoolie that looks like it belongs in a little meadow somewhere where it's always springtime. This skoolie is simple but timeless.
View this post on Instagram
THE DIXIE TRIBE
Want to learn more about the Dixie Tribe and their skoolie? Check out their Instagram, @thedixietribe.
Have a skoolie you think we need to feature? Tell us! Email info@sincewewokeup.com and fill us in!