Van Other Blog: Skoolie Feature Friday
We have affiliate agreements with certain brands and companies. If you purchase items or click on links through this site, we might get a kickback from those brands or companies. This doesn't affect you or what you pay in any way, but it does help fund our journey - so thank you!
Today we're featuring the Van Other Blog bus, a conversion I've been not-so-patiently waiting to be finished. The first semi-finished photos I saw of it promised a beautiful conversion full of thoughtful design details. What I didn't expect was for the finished product to completely blow my mind, but it's happened. I will come right out and say that if I was forced to choose another skoolie to live in besides our own beloved Oliver, I might well choose this short conversion.
Why?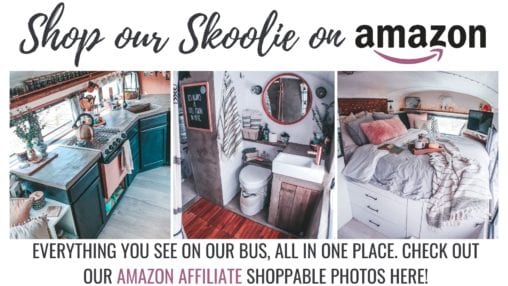 This conversion was well-planned from start to finish, and the execution is just flawless. From the techy components to the smallest stylistic details, it's just brilliantly done. Don't believe me? Keep reading to see for yourself.
A SPA BATHROOM EXPERIENCE
The bathroom was one of the first finished parts of this build I saw, and I loved it so much that it actually propelled the build into our "Bus Conversions to Watch" feature two months ago on Instagram. The bathroom is modern, simplistic but elegant – unstained wood, white tile, and matte black fixtures with a matching glass door. The sliding barn door that overlaps the glass door, the large bank of unblocked windows, and the simple shelf behind the toilet really make this bathroom feel luxurious.
View this post on Instagram
DESIGN DETAILS THAT WOW
Layered patterns and textures, functional but stylish solutions, and modern touches come together to form a skoolie conversion that is both modern without being cold. Where some modern designs utilize a lot of white that makes them feel less homey (and almost surgical in some cases), this build's clever use of patterns and textures with sleek fixtures and a darker color scheme means it feels modern and clean but still lived-in. Plus, that wallpaper and the mixed flooring tiles – need I say more?
View this post on Instagram
CLEVER USE OF SPACE
Being a short bus conversion, space is at a premium. By utilizing a design element seen often in van conversions, a couch that turns into a bed, this build has the best of both worlds in one space. During the day, double couches mean a flexible space to live and entertain in, with a pretty killer view out the back door. At night, fold the bed out, and boom – a cozy bedroom to Netflix and chill in.
View this post on Instagram
IT'S ALL IN THE TECH
This bus isn't just built well. It's designed well. Check the proof in the tons of little design details like this stowaway outlet. Most bus conversions have an element of function over form, where a design detail had to be changed because a necessity of bus life had to be considered instead. This conversion, however, doesn't have that feeling in a single place to me, and the clever ways the tech is integrated into this build seem very deliberate and thoughtful. From the panels on the wall to the built-in TV to little details like this, we love the tech elements in this bus and how they add to the overall design.
View this post on Instagram
A MODERN KITCHEN
Speaking of tech, let's check out this modern kitchen with its super sleek appliances. While we favored reused and recycled elements in our own build and love our custom DIY appliances, I'm swooning over this convection oven and cooktop combo. Plus, the matte black cupboards with the wood countertops? Perfection.
View this post on Instagram
VAN OTHER BLOG
Want to see more of Van Other Blog? Check out the build on Instagram, @vanotherblog.
Have a conversion you think we need to feature? Email us at info@sincewewokeup.com!