We have affiliate agreements with certain brands and companies. If you purchase items or click on links through this site, we might get a kickback from those brands or companies. This doesn't affect you or what you pay in any way, but it does help fund our journey - so thank you!
The first real construction step in the school bus after we finally finished tearing everything out was laying down the new skoolie floors.
The original bus floors were pretty rough. There were areas of flaking rust and a few spots had holes large enough to see through to the ground below. Those had to be dealt with first. There was a lot of grinding and patchwork, replacing and reinforcing the old metal. Luckily, it was mostly superficial – rust can be a skoolie killer if not dealt with properly. With the repair work done, we laid down several solid coats of Rust-Oleum to prevent further damage and it was time to build.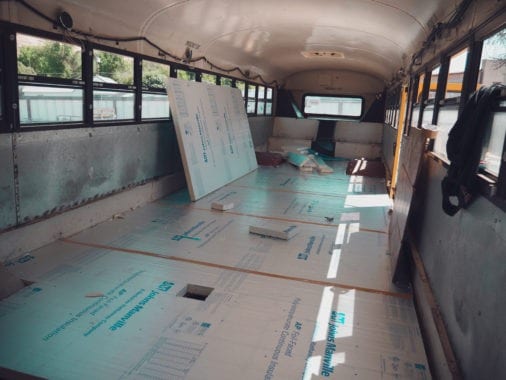 We chose to install a floating sub-floor, which means it isn't anchored down with screws or nails and sits on top of the insulation. These floors have one really big plus when it comes to skoolies. They allow more forgiveness for constant movement and room for fluctuation due to changes in temperature.
INSULATION
We used sheets of 4×8 rigid polystyrene foam for the floor. This type of insulation is specifically made for basements and underlayments and is resistant to moisture. We found it really easy to use, scoring and cutting with a knife as we went along. We jigsawed pieces here and there where necessary, fitting them around the wheel wells and crevices so that no cracks showed through the floor and had a solid base.
SUB-FLOOR
The process of laying down the subfloor required a little more finesse than the insulation. We used 4×8 sheets of 3/4″ OSB for this part. Because of our decision to have a floating floor we had to be pretty meticulous with our cuts.
We had to make sure the floors fit close to the walls and didn't have too much room to move around. Once again, we jigsawed pieces together to make it all fit. For the first time, with the school bus floor covered, we got a glimpse of how the space would feel.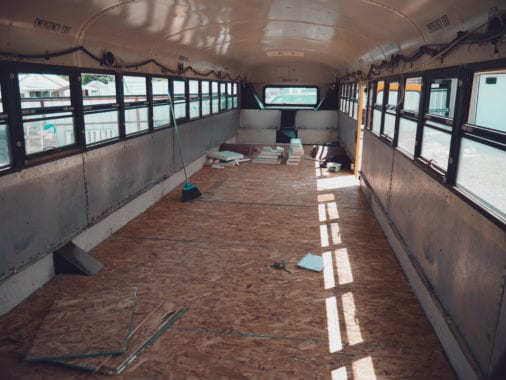 THE ACTUAL SKOOLIE FLOORS
Putting in our flooring was ridiculously exciting for us because it was the first really "homey" part we got to do.
Although we played around with the idea of using real wood for the floors, we ultimately decided on laminate flooring. We used real wood at our previous house and loved it. However, it got scratched and dinged up frequently and required a lot of maintenance. Since this was to be a moving house, with two teenagers and a Great Dane, we needed something tougher.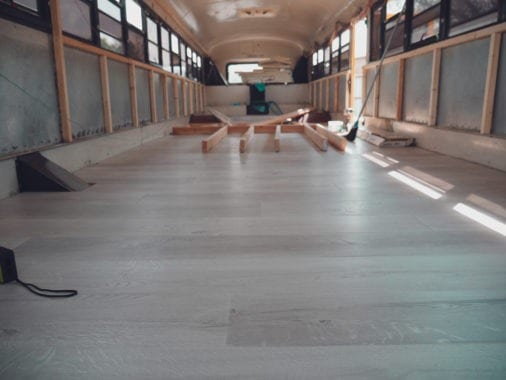 We chose a beautiful, light-colored laminate flooring called Ocean Oak. This brand is waterproof and easy to install with click-and-lock technology. We established a system quickly and had most of it done on the first day. The only difficult part was the precision cutting required around the wheel wells.
Finally, we finished our floor after a week of work. The first thing we did was lay down and close our eyes, imagining the walls and furniture around us. After trying to figure out exactly where we were laying, we realized we could make it even better. We grabbed a roll of painter's tape to map out the layout. Turns out we'd been laying on our kitchen counters. Giddy that our dream was becoming a reality, we laughed much harder than was necessary.
We sat there on our new skoolie floors, tea mugs in hand, planning and talking until the sun faded from the sky. If we'd only known that this was the last big success we'd have before we started hitting roadblock after roadblock, we might not have enjoyed it as much, but I will always remember that moment as one of the happiest moments of my life up to that point – sprawled out on the floor with our hopes and dreams.