Regretlyss: Skoolie Feature Friday
We have affiliate agreements with certain brands and companies. If you purchase items or click on links through this site, we might get a kickback from those brands or companies. This doesn't affect you or what you pay in any way, but it does help fund our journey - so thank you!
The Lucky Bus, as featured on the Instagram page Regretlyss, is one I've been looking forward to featuring for weeks now. It's small in space, but big on style, and we love the straightforward layout, simple luxuries, and laid-back vibe of this build.
Alyssa, the bus's occupant, bought her bus three years ago to transform it into a tiny home. She lived in it while she converted it, including a stint with a mattress on the floor during a New England winter! The end results and sacrifices were obviously worth it because today she lives full-time on the road in her gorgeous little home on wheels.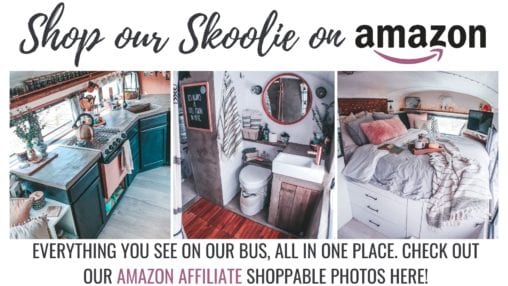 Keep reading to see the highlights of this short bus skoolie build!
THE PERFECT SKOOLIE LAYOUT
This little bus really does have the perfect layout – space for everything, including a bathroom and closet, while maintaining the most open layout possible. A couch with storage sits across from the kitchen, the bathroom and closet are opposite each other just behind, and the little master bedroom caps off the back!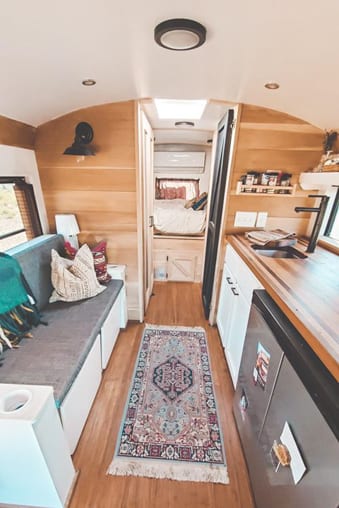 THOSE CLOSET AND CUPBOARD DOORS
One of my absolute favorite features has to be the custom doors in this tiny house. In the bedroom, the cabinets above the bed feature the Lucky Bus logo. Meanwhile, here on the closet door, the outside has come in with this forest scene that fits the other decor so perfectly. And it isn't just the doors that are awesome – this closet may be small, but inside the storage is on point. See more on the Regretlyss Instagram page!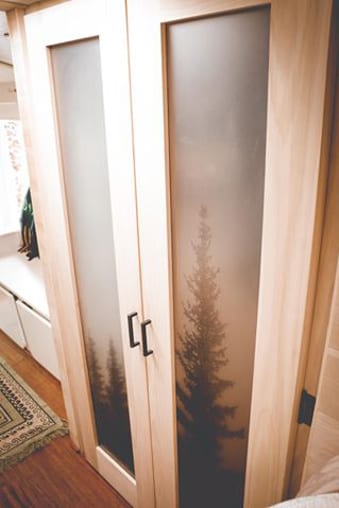 THE CUTEST LITTLE BATHROOM
This combo shower/toilet area proves that even the tiniest of bathrooms can be stylish and functional. I love the galvanized steel, and imagine cleaning that toilet must be pretty easy with the shower right beside it! To me, this is a perfect example of my favorite part of tiny homes – the creative ways people find to combine and downsize space while making it beautiful.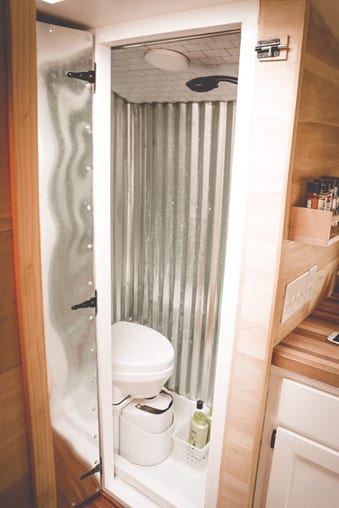 FOLDAWAY TABLES
We have a table that folds away in our bus that we love, but these tray-style mini tables attached to the side of the couch are such a cool idea. Whether it's grabbing a quick bite to eat or getting some work done, how nice is it to pop it quickly up when it's needed and then simply fold it back down when you're done?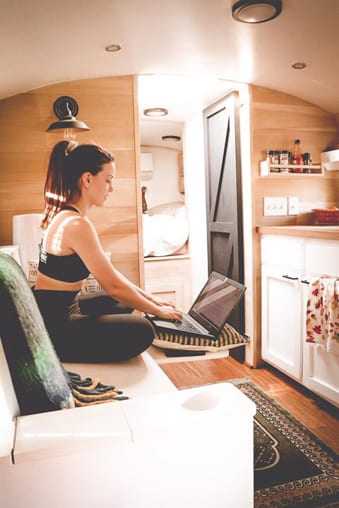 A SMALL BUT MIGHTY KITCHEN
This kitchen is further proof that big doesn't necessarily mean better. While small, this kitchen has a host of modern appliances and plenty of space to cook up tasty meals on the road. I'm personally in love with those butcher block countertops and that adorable under-counter refrigerator!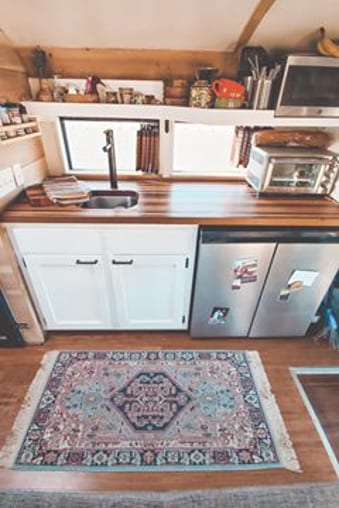 REGRETLESS AND THE LUCKY BUS
You can see more of the Lucky Bus and Alyssa on their Instagram page, Regretlyss.
Have a bus you think needs to be added to our Feature Friday series? Just email and tell us – info@sincewewokeup.com!