Our Van Quest: Skoolie Feature Friday
We have affiliate agreements with certain brands and companies. If you purchase items or click on links through this site, we might get a kickback from those brands or companies. This doesn't affect you or what you pay in any way, but it does help fund our journey - so thank you!
You'd expect a van behind an account named Our Van Quest, and you'd be right – the account originally featured a gorgeous van build. However, as Jake and Gianna's little family grew from three to four, they recognized the need for more space and undertook a school bus conversion, while Gianna was pregnant with their second daughter no less!
Mimicking the gorgeous style of their original van, this skoolie conversion caught our eye because of how bright and open it feels while providing space for everything this little family needs for life on the road.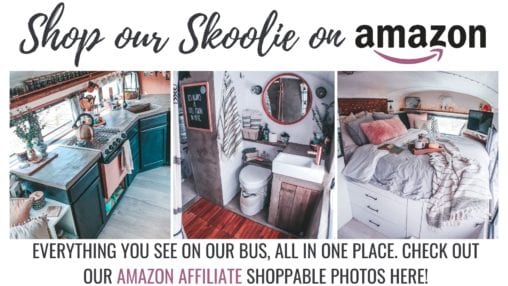 Keep reading to see exactly how this creative couple managed to fit everything a family of four needs into this tiny home on wheels while staying totally stylish on the road!
WHITE, WHITE, WHITE
Painting the walls, ceiling, and cabinetry white keeps the small space feeling not just open, but CLEAN. For fellow tiny house dwellers, you know exactly how quickly a small home can start to feel cluttered and dirty. This one small design detail was genius, in my opinion. And while all white can feel sterile, the pops of greenery and wood instead warm it up just enough that they've really nailed the Hygge vibe that is so popular right now.
View this post on Instagram
THAT KITCHEN THOUGH
The deep farmhouse sink that can double as a bathtub for little ones, the stainless steel that further adds to the uber clean and modern feel, and that gorgeous tiled backsplash – what can we say except this kitchen is absolutely gorgeous? Not pictured here is the black refrigerator on the other side of the bus that matches the sink perfectly. We can totally imagine making meals for a family of four in this tiny but mighty kitchen.
View this post on Instagram
A COMBINED LIVING AND DINING SPACE
Because this bus isn't as long as some, the family had to be creative about how to fit everything they needed in, and one way they accomplished this was forgoing a couch in lieu of dining space with bench seating backed up to a bench that the girls' car seats could buckle into. Taking car seats in and out would be a major hassle, so they found a solution that allowed the seats to stay put and still look stylish. We really love the little dining area and the polished wood tabletop.
View this post on Instagram
CREATIVE STORAGE SPACE
From overhead cupboards in the kitchen and open shelving above the dining room to a large pullout pantry unit and well-organized drawers, there's quite a lot of storage packed in this 120-square-foot bus. Look closely and see how every single space has been planned out to maximize every available inch of space!
View this post on Instagram
AN ADORABLE BATHROOM
This little bathroom is a combined one, done wetroom style like our own build. With two little ones, having a private bathroom with a shower was important to the family. Like everything else in this build, they combined style with practicality and found a way to pack both the toilet and shower in one small room in a way that also looks beautiful.
View this post on Instagram
OUR VAN QUEST
Want to see more of the skoolie and family behind Our Van Quest? Check out their Instagram!
Have a skoolie you think we need to feature? Tell us! Email us at info@sincewewokeup.com and let us know you've got a build we absolutely have to see.