The Real Buslife of Cheshire: Skoolie Feature Friday
We have affiliate agreements with certain brands and companies. If you purchase items or click on links through this site, we might get a kickback from those brands or companies. This doesn't affect you or what you pay in any way, but it does help fund our journey - so thank you!
Today's Feature Friday – The Real Buslife of Cheshire!
This bus "across the pond" has always been one of my personal favorites in its simplicity. So much of the original bus shines through in this build. It's not a conversion where you can kind of tell it was once a school bus – from the original color to the stickers still in place, this conversion pays a ton of homage to its roots.
As much as we love to travel, we also kind of love that this bus is stationary on a farm, complete with an outdoor patio. Its owners, Paul and Ailsa, have traveled extensively in their van, Hank, but their bus, Otto, has a permanent place of residence. As we've hankered for a space of our own to park from time to time, this sounds like a total best-of-both-worlds scenario to us.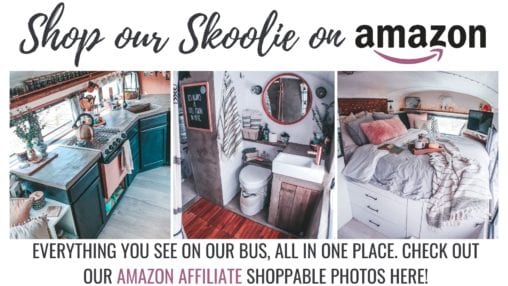 Ailsa and Paul have recently decided to sell Otto the bus and take on a double-decker bus project. While we can't imagine it will be easy to sell a gorgeous bus like Otto, we're also a little jealous – because how bloody cool would it be to live in a double-decker?!
You can see more of that on their Instagram page @therealbuslifeofcheshire, but for now, let's check out what makes their current conversion so awesome.
THE GORGEOUS SIMPLICITY OF RAW MATERIALS
So much of this bus is created using raw materials – raw wood, raw metal, and old pallets. And we dig the look hard. Paired with natural touches like macrame and plants and more high-end finishes like their parquet floor and sleek countertops it creates a space that's both homey and cozy without feeling old or worn. Plus, we're huge fans of layered finishes and textures – and you can't get much more of it than you have here!
View this post on Instagram
A KITCHEN SPACE WITH SO MANY AMENITIES
Many skoolie and van dwellers give up modern amenities to live off-grid, with solar systems that limit electrical use. But this bus, parked as it is, doesn't need to skimp out on handy appliances in the kitchen. This kitchen includes a full-size fridge, coffee and smoothie makers, and even a microwave. There's even a minibar shelf for drinks – which is perfect for relaxing at the end of a summer day on that aforementioned patio.
View this post on Instagram
ACTUAL WALL SPACE
A lot of skoolies, ours included, have limited space for artwork and decor to hang. We actually created faux walls in our front windows while parked to be able to hang artwork! But @therealbuslifeofcheshire has a real wall, with real artwork! There's something super homey and comforting about even a few framed prints, you know? And we love how they kept it just as neutral and tidy as the rest of the space so that this wall blends in and looks right at home while still working as a mini focal point.
View this post on Instagram
SO MANY BUS THROWBACKS
From an original bus seat to stickers left on the ceiling and front panel, there are homages to the original school bus everywhere in this tiny home. And having left a few of those in our own bus, we really love these touches. There's something about repurposing something old, shining it up, and making it into something new while remembering its roots, that kind of pulls our heartstrings.
View this post on Instagram
A PERFECTLY APPOINTED BATHROOM
Bathrooms in skoolies are hard. Many turn out as tiny closets that don't get much use, a few have bathtubs or larger showers, and many feature ingenious space-saving ideas that make them both cute and functional. You'll find split layouts with part of the bathroom on each side of an aisle and larger ones that sit off to the side, like ours. But this one is kind of a blend – tidy, well-planned, and adorable. The shower isn't huge, but it is well executed in a way that makes it seem larger to us. We love the blend of flooring here and the way it just fits right in across from the kitchen.
View this post on Instagram
THAT FLOATING TABLE AND PARQUET FLOORS
We love this floating table, a gorgeous feature we've only seen in a few other builds. Giving it a one-of-a-kind vibe are the macrame ropes that hold it up. Right at the front of the bus, with a full view of the gorgeous surrounding views and all the plant life that calls the front window home, we can't imagine a cheerier place to eat breakfast. And let's not forget to pay a little attention to those parquet floors, a detail that lends an upgraded feel to all the natural finishes.
View this post on Instagram
THE REAL BUSLIFE OF CHESHIRE
The Real Buslife of Cheshire is a bus worth a follow, and not just for the stunning bus. You'll enjoy the adventures of the Aussie and Brit who live inside, and their two adorable dogs who have their own Instagram @adventures_of_berg_and_mari. Check out this bus conversion on Instagram @therealbuslifeofcheshire!