Going Boundless: Skoolie Feature Friday
We have affiliate agreements with certain brands and companies. If you purchase items or click on links through this site, we might get a kickback from those brands or companies. This doesn't affect you or what you pay in any way, but it does help fund our journey - so thank you!
Today for Feature Friday we're highlighting Going Boundless, a skoolie conversion that feels clean and open and has all the amenities of a larger home! This bus has an overall modern feeling, with bright white walls and subway tile throughout, but incorporates touches of rustic charm, like a farmhouse sink, that keep the vibe warm and cozy.
And for followers of their Instagram, the bus isn't the only gorgeous site you're treated to. From mountains to shorelines to plains, all across North America, they document the gorgeous scenery their travels take them to for their followers.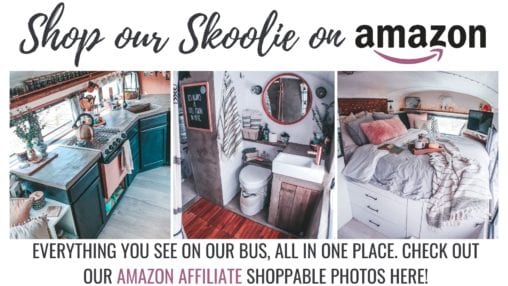 Ready to take a stroll through this beautiful little tiny home on wheels? Keep reading.
THAT OPEN INTERIOR
Between a well-designed layout that keeps the entire front of the bus open and a skylight that allows plenty of natural light to enter, this skoolie conversion boasts an impressive feeling of openness for such a small space. The front of the bus features a living space, kitchen, workspace, and wood stove. With all this packed in you'd imagine it could start feeling pretty cramped, but as this photo shows, this space feels anything but confining.
View this post on Instagram
A SLEEK TINY KITCHEN WITH A FARMHOUSE SINK
From the shiny gray countertops to the stainless appliances, this kitchen feels straight from a magazine. But that farmhouse sink is what really sets it off and makes it magical. Paired with the tile backsplash and warm wood accent wall? Perfection.
View this post on Instagram
A TINY BEDROOM WITH A WASHER/DRYER AND CLOSET SPACE
Very few skoolies choose to have a washer/dryer unit, mostly due to prioritizing space. This conversion cleverly included one by tucking it away under the bed! And what a charming little bedroom it is, complete with a gorgeous custom-made headboard and full-size closet! This bedroom at the back of the bus really makes this home feel like a tiny apartment, complete with all the necessary amenities.
View this post on Instagram
A COZY OFFICE SPACE BY THE WOOD STOVE
We're imagining working at this little desk while snow floats down outside and the woodstove crackles away, and it sounds like heaven to us. This little desk and chair combo are perfect in this space, blending in and offering functionality while not taking up tons of precious space. We also have to note that the brick woodstove surround is another of those rustic touches that really add depth and character to the build.
View this post on Instagram
A TILE SHOWER IN AN ADORABLE BATHROOM
The whole bathroom is adorable, but this shower is absolutely next-level. The beautiful white tiles set against gold fixtures and a glass door look straight out of a magazine, and are probably not what someone would expect when you say, "I live in a school bus". Imagine being able to shower in luxury while off-grid in one of the many beautiful destinations featured on their account!
View this post on Instagram
GOING BOUNDLESS
Want to see more of Going Boundless and their awesome skoolie? Check out their Instagram @boundless_bus!
Have a skoolie you think we need to feature? Send it to us at info@sincewewokeup.com! We're always looking for new accounts to follow and bus conversions to feature!