Skoolie Feature Friday: Happy Homebodies
We have affiliate agreements with certain brands and companies. If you purchase items or click on links through this site, we might get a kickback from those brands or companies. This doesn't affect you or what you pay in any way, but it does help fund our journey - so thank you!
Welcome to the first edition of Feature Friday – featuring the Happy Homebodies skoolie!
When we first started dreaming about converting Oliver into the tiny home of our dreams, like most people starting a project, we flocked to Instagram and Pinterest for inspiration. We spent hours poring over tiny homes, skoolies, vans, and renovated RVs, dissecting what we liked and didn't like about each one. After months of dreaming, planning, drawing, and redrawing sketches, we came up with the perfect layout.
As these things often go, our designs and plans changed here and there during the actual build. We've also done a fair amount of renovating after actually spending time living in our skoolie. Some things simply work better on paper than in reality. As it stands now, we love Oliver and his layout. In fact, we've never been happier in another home.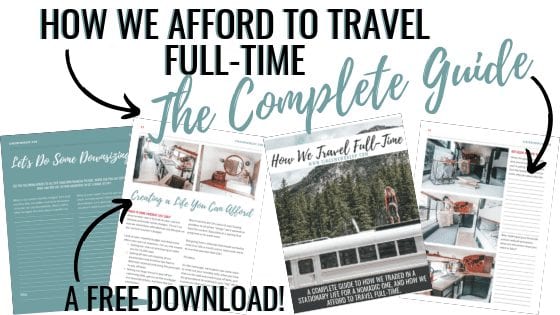 However, that doesn't mean we don't still marvel at some of the other skoolies out there. And we decided we wanted to start a new practice of showcasing those beautiful builds in this giant, diverse, wonderful, and whacky skoolie community that's grown over the past few years.
One such amazing skoolie belongs to Francesca and Nicholas, the creators behind the Happy Homebodies Instagram. Aside from being truly fantastic human beings, they also have an incredibly noteworthy skoolie that boasts innovation, an eye for beautiful interior design, and skillful craftsmanship.
Let's dive into some of our favorite features.
A BOLD AND BEAUTIFUL SPLIT BATHROOM
As we mentioned in our post about our favorite skoolie bathrooms, a split bathroom never appealed to us. We were worried that having your toilet and sink on one side of the hall and your shower on the other would result in a disjointed feel. However, with their seamless design and countless touches of rustic elegance, these two pulled it off and proved us wrong.
View this post on Instagram
A SIGNIFICANT ROOF RAISE WITH A STUNNING CEILING
When we started deconstructing our bus (taking out seats, flooring, etc.), we had the option of doing a roof raise before going any further. To save money and time, we decided to forgo this venture, and since neither of us is exceptionally tall, it worked out okay. Since finishing Oliver, however, we've been in a few skoolies with raised roofs, which has led us to a unanimous decision – we're definitely raising the roof of our next skoolie.
Francesca and Nicholas provide a shining example of a roof raise executed to perfection, with accompanying extra tall exterior windows to match, which we suspect permits amazing views of all the places they travel.  To complete their ceiling, they installed a richly-colored shiplap.
View this post on Instagram
THE HAPPY HOMEBODIES SKOOLIE HAS THE MOST SPACIOUS OPEN FLOOR PLAN WE'VE SEEN
One of the most frequently asked questions we get is whether or not we feel cramped living full-time in a converted school bus. We can honestly answer with a resounding no. With a properly designed and open layout, you can avoid feeling claustrophobic. This is an area where the Happy Homebodies skoolie is hard to beat. Their bus layout is so open it makes the bus seem twice as large. Combined with the raised roof, their skoolie feels especially spacious and inviting.
View this post on Instagram
THEIR OBVIOUS UNCONDITIONAL LOVE FOR THEIR PUPS
They say you can tell a lot about a person based on how they treat animals, and as vegans, you know we get behind that. If that's the case, it's safe to say that Francesca and Nicholas are some of the nicest people out there. In almost every design element of their skoolie, you can see they were thinking about the happiness of their three dogs. From their 10-foot couch to the transformable front end of the bus which becomes the ultimate dog lounge, clearly, those dogs are loved.
View this post on Instagram
A WARM AND INVITING FIREPLACE
Winter can be a tough time for the skoolie community. Without our wood stove, we'd have died of hypothermia a long time ago. This is another facet of interior design that these two nailed. Their adorable little black stove looks to be perfectly installed and mounted, including the protective metal surround. We can totally imagine cozy nights around the fire in this space. Nice work Francesca and Nicholas!
View this post on Instagram
CHECK OUT HAPPY HOMEBODIES!
Every skoolie journey is unique. Whatever your skoolie build looks like and wherever it takes you, you're in good company. Here's a big shoutout to Francesca and Nicholas at the Happy Homebodies for all of the inspiration you've spread through your beautiful build and amazing pictures!
Check out their Instagram for more stunning content!