Skooliana: Skoolie Feature Friday
We have affiliate agreements with certain brands and companies. If you purchase items or click on links through this site, we might get a kickback from those brands or companies. This doesn't affect you or what you pay in any way, but it does help fund our journey - so thank you!
Today for Feature Friday we have Skooliana – a skoolie with so much rustic goodness going on it's like this tiny home simply sprang up out of the forest. From the ridiculously awesome paint job outside to the coziest indoor ambiance you can imagine, this tiny home on wheels has comfort and style figured out.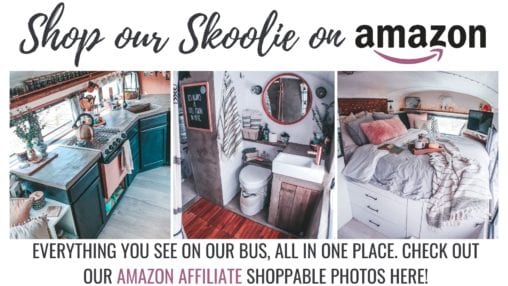 Don't believe us? Come take a tour through this short bus-turned-tiny home and see firsthand why this rustic skoolie deserves to be on our Feature Friday roster!
RUSTIC VIBES
The mix of different woods, white beadboard, live-edge tabletop, and patterns on top of patterns is right at home in the middle of a forest, looking as if it just sprang up from the surrounding woods overnight. While we normally don't personally love super rustic designs, this one nails it so perfectly we can't help but want to curl up on that couch and soak in those cozy vibes.
View this post on Instagram
A MUSIC STUDIO ON WHEELS
Not only is this bus a home, but it's also a music studio! Check out On the Road is My Home, one of the tracks from the first EP just released earlier this year, or see the full album here. You'll immediately want to make the road your home too!
View this post on Instagram
LIGHTS, LIGHTS, EVERYWHERE
We are obviously huge fans of twinkle lights, using them pretty liberally in our own build, but Skooliana takes lighting ambiance to a whole other level, using them indoors and out. They lend to the incredibly cozy cabin vibe this skoolie has to go, and create such a lovely atmosphere throughout, as well as create a very special feel through the photos you'll find on the @skooliana Instagram page!
View this post on Instagram
AN OUTDOOR SHOWER
Since we got our own portable bathtub and experienced how lovely a late-night bath under the stars is, we can really get behind this outdoor shower idea. Can you imagine how amazing a shower would feel with scenery like this as your backdrop? A special platform at the back of the bus allows a place to stand while showering off. After drying you could simply climb in the back door straight into that cozy bed!
View this post on Instagram
AN INTERIOR THAT EASILY FLOWS OUTSIDE
School bus conversions are meant to travel and enjoy the best scenery around. So we really love when the people that live in them add elements that allow them to truly enjoy those outdoor spaces, like this outdoor living room that can be thrown up and taken down as the bus roams around. A few simple elements, including more of those twinkle lights, create a space where life can flow from indoors to out seamlessly.
View this post on Instagram
SKOOLIANA – A RUSTIC CABIN ON WHEELS
Want to see more of Skooliana? Check out this cozy skoolie's Instagram page @skooliana!
Have a skoolie you think we need to feature for Feature Friday? Email us at info@sincewewokeup.com