Basically Nomads: Skoolie Feature Friday
We have affiliate agreements with certain brands and companies. If you purchase items or click on links through this site, we might get a kickback from those brands or companies. This doesn't affect you or what you pay in any way, but it does help fund our journey - so thank you!
Today for our skoolie Feature Friday, we're highlighting Basically Nomads – a skoolie conversion with tons of standout features to drool over. From the overall layout with tons of functional space to the details (like those amazing doors throughout!), we are in love with this tiny home on wheels.
What we really love about this account, however, is their mentality. They originally wanted to build a tiny home out of a shipping container, but didn't know where they wanted to put it! They didn't let that stop them, however, and built a skoolie to simultaneously live their tiny dream while looking for a place for their planned shipping container home. In a world where it's easy to get discouraged because of obstacles, they prove you can push forward with your dreams by choosing an alternative path to keep moving forward.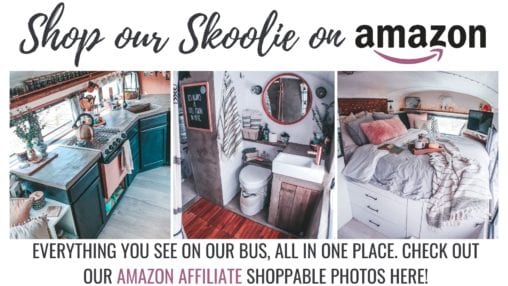 Keep reading to see exactly what we love so much about the @basicallynomads bus!
AN AWESOME DEDICATED WORKSPACE
This skoolie has two workspaces on either side of the living space. One is slightly larger, home to a huge gaming screen, and the other is slightly smaller beside the kitchen. Both fold down, making them perfect for a small space where areas sometimes need to be dual-purpose. Having added a workspace to our own bus, we can totally get behind the luxury of having a home office space to work in.
View this post on Instagram
AN OPEN BUT COZY FEELING LAYOUT
Center aisle layouts are tough. While they keep one long hallway through the space, and in that way help it feel open, they can also start feeling closed off if there's too much going on at the sides. This one really found a comfortable balance between open and cozy. A neutral color scheme helps keep it bright and open, and balancing where taller and overhead cupboards are placed keeps it from feeling closed in.
View this post on Instagram
A THOUGHTFULLY DESIGNED AND BEAUTIFUL BATHROOM
There is so much to love about this bathroom. The bright white subway tiles, the shower with extra headroom, and the toilet placed strategically by the side door, which we imagine makes it much easier to empty. Plus, housing the toilet and shower in one space means reduced cleaning – and we are all for less cleaning and more adventuring.
View this post on Instagram
THE CUTEST LITTLE WOOD STOVE AREA EVER
First of all, there's the copper surround. We obviously love copper and have it all over our own build, and it works perfectly here as a heat shield. Then there's that adorable little stove and the built-in wood box underneath. We can totally imagine a little fire in there during a chilly winter morning, and it makes us want to pull out the pumpkin spice-flavored everything right now!
View this post on Instagram
THOSE DOORS THO
Every skoolie has its own little flare, and the doors throughout this bus are one of those standout features in this build. Each one has been handmade with its own awesome geometric design. Better yet, they filmed a video on how they created them so that you can build one in your own home, whether it has wheels or not!
View this post on Instagram
BASICALLY NOMADS
Love the Basically Nomads build as much as we do? Go tell them on their Instagram @basicallynomads!
Have a skoolie you think we need to feature? Tell us at info@sincewewokeup.com!