Skoolie Feature Friday: Colorful Skoolies
We have affiliate agreements with certain brands and companies. If you purchase items or click on links through this site, we might get a kickback from those brands or companies. This doesn't affect you or what you pay in any way, but it does help fund our journey - so thank you!
For today's Feature Friday, we're featuring our top three colorful skoolies on the 'Gram. You know, the ones that take color pop to a whole new level. The ones that stop you mid-scroll as you admire how the whole scheme pulled together to support such bold choices.
Big colors in a small space aren't easy to get away with – you risk closing the space in and making it feel smaller. But these skoolies prove you can be bold with colors even in a tiny home, and we totally dig the outcome.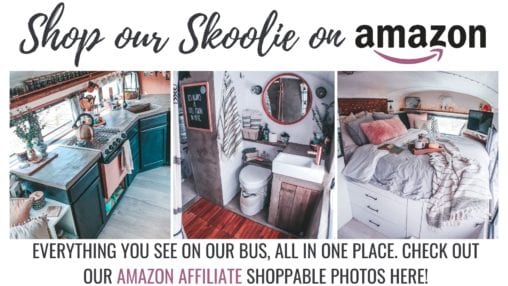 Check out our top three favorite colorful skoolies below!
SOULFUL BUS LIFE
We've featured Adam and Rachel's bus before, because you just can't beat its breezy vibe. But inside and out, this skoolie is also one of our favorite color-popped skoolies. That cool turquoise-blue that flows from the outside in matches the rest of the cool tones you'll find throughout their interior perfectly. Plus, paired with this plant shelf on the dash? Perfection.
View this post on Instagram
ART WE THERE YET?
Now, this is a skoolie that went completely bold and artistic in a way that could have been a complete disaster – I mean, that's a lot of colors in a really small space. Instead, this bus lives up to its Instagram handle and is a moving piece of gorgeous art on wheels. Somehow, they managed to combine all the colors into one cohesive feeling home, and it's magic.
View this post on Instagram
BIG SKY BUS
I remember the first time I saw this bathroom shot in my feed on a hashtag recommendation and had to come full stop to admire it. I don't know how they managed to make it work, but this colorful bathroom is somehow simultaneously dramatic, fresh, and a little glam all at once. The blue tiles, the pink drawers, the gold fixture, and then all that black? That's some brilliant use of color, and an awesome layout besides!
View this post on Instagram
COLORFUL SKOOLIES FOR THE WIN!
While these are the top three colorful skoolies we chose, it was pretty hard to narrow it down – there are just so many amazing skoolies roaming the roads now!
Do you have one you think we should feature? Hit us up at info@sincewewokeup.com so we can add it to our list!