Someday the Bus: Skoolie Feature Friday
We have affiliate agreements with certain brands and companies. If you purchase items or click on links through this site, we might get a kickback from those brands or companies. This doesn't affect you or what you pay in any way, but it does help fund our journey - so thank you!
Today's Skoolie Feature Friday – Someday the Bus!
Someday is a bright pink mid-size skoolie that houses the most adorable little family of four. I adore this bus for so many reasons – the super glam vibe that somehow seamlessly incorporates Southwest flair and modern fixtures, the pops of color, and neon. But what I truly love about this account is the family behind it – love exudes from this little home on wheels.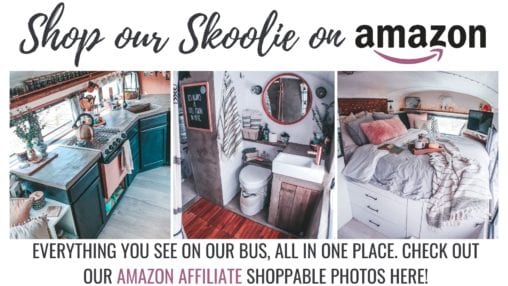 Spend a few minutes on their page and you'll see exactly what I'm talking about. If you're looking for the short version, keep reading to see the elements that really shine in this skoolie conversion!
A MASTER BED THAT FOLDS AWAY FOR MORE SPACE
Because this bus is mid-sized, the moms had to get creative about ways to have enough space for themselves and two kiddos. One of the ways they achieved this is by creating a master bed that folds away into a couch, leaving a second living area for play during the day at the back of the bus. Memory foam mattresses ensure the bed, even as a foldaway, is comfortable enough for daily sleeping. And the large door in this space really makes it shine.
View this post on Instagram
TOTAL GLAM VIBES
I'm a sucker for the total "girlness" of this build. Bright pink exterior notwithstanding, this whole bus has a very luxe, glam feel. From the neon sign in the back that makes the whole room glow pink to the super plush seat cover at the front, this bus absolutely screams comfort and luxury – which is hard to do in a tiny space where amenities have to be chosen with care.
View this post on Instagram
A FOLDING DECK
This deck that folds up when not in use is a really clever idea. Paired with the side awning, you can tell these ladies gave a lot of thought not just to the day-to-day logistics of living in a bus, but to the actual idea of being off-grid in nature and enjoying it to the fullest. Plus, as evidenced in their feed, there's no better place for an aspiring young singer to hold a sing-your-heart-out-jam-session.
View this post on Instagram
THAT BLACK AND WHITE SHOWER STALL WITH A VIEW
They recently upgraded their shower with this black tile, and we are digging the new vibe. Paired with that skylight? We can totally see enjoying waking up if it meant showering in such a trendy shower with a view of the world outside.
View this post on Instagram
COLOR POPS EVERYWHERE
One of the things I love most about this bus is the color pops that are absolutely everywhere. While I normally love neutral design with muted colors, the clever use of bright colors really appeals to me in this build because it's so real. While the walls and fixtures are all black and white, this family moved in and made the build their own with bright decor and happy colors.
View this post on Instagram
ATTRACTIVE STORAGE
When we were designing our own skoolie layout, storage was always at the top of our minds. They really nailed the storage in this tiny home, with attractive solutions in plain sight like these baskets paired with stow-away options like the drawers under their couch/bed. Who needs a walk-in closet with storage space this pretty and functional?
View this post on Instagram
SOMEDAY THE BUS
Want to see more of Someday the bus? Check out the rest of their feed on the @somedaythebus Instagram!
Have a skoolie we need to feature? Tell us at info@sincewewokeup.com!