The Jackery Explorer 500 and SolarSaga 100W Solar Panel: A Review
We have affiliate agreements with certain brands and companies. If you purchase items or click on links through this site, we might get a kickback from those brands or companies. This doesn't affect you or what you pay in any way, but it does help fund our journey - so thank you!
When we were asked to test out the Jackery Explorer 500 and SolarSaga 100W solar panel, we jumped at the chance. We'd been seeing it all over our social media and while our bus solar system is adequate, having a backup system is an idea we'd been toying with. Jackery was a front-runner for us because of their terrific reviews.
We received our package after returning from a month-long trip to Bali, just in time for the cold weather to move into Montana. In case you weren't aware, Montana isn't exactly solar-friendly, ranking 15th out of 50 in sunlight availability with an average of 3.66 hours of sunlight per day in the winter. Any extra bit helps, and we were excited to have this boost to our existing system, especially because it offered us a bit of portability.
THE JACKERY EXPLORER 500
The Jackery Explorer 500 is a 500W portable lithium power station that offers a charging solution off-grid. And it's a versatile little sucker. The 500 has inputs for just about everything you could think of, supplying both DC and AC power via the internal 1,000W Pure Sine Inverter. It includes one AC plug-in for devices rated under 500 watts, three DC inputs, including a standard 12V/10A carport input, and three USB ports.
And when I say everything, I mean everything. The wide variety of situations and uses we've already found for this little battery have amazed us. Not only is it handy when we're outside the bus, but it's also nice to have a little portable power station inside the bus. Rather than running power cords everywhere to various outlets, I can plug everything into one spot wherever I happen to be. For instance, so far we have:
Run our PS4 and TV to play video games together for several hours.
Taken it out to the woods while chopping firewood to power our Bluetooth speaker so we could jam out while we worked.
Used it on the bus as a workstation – I can plug in my computer, phone, and heated blanket to have everything in one place without cords strung everywhere.
The Jackery 500 comes with a lot of bonus features as well, including a built-in flashlight, a light-up display, and the ability to turn the different power options on or off to conserve power. It also has over-voltage protection, over-current protection, and over-temperature protection.
We were curious how long it would take to charge, and we've found the times given on the website hold true. The 500 charges by a standard plug, car plug, generator, or solar panel, and you get multiple cords to make sure you have every option available to you.
Of course, the best way to use this power station is with a solar panel, like Jackery's SolarSaga 100W panel.
THE SOLARSAGA 100W SOLAR PANEL
Jackery offers a foldable, portable solar panel designed to be used with most of their power stations, like the Jackery 240 and Jackery 160. Since it makes the most sense to use a power station with a constant source of renewable power, we were excited to see how the Explorer worked with the SolarSaga 100W panel.
The design is pretty slick. It folds easily, is super thin, and is extremely lightweight and easy to stow. Built-in pockets keep the necessary cords handy, and two fold-out kickstands prop it up once open.
An awesome bonus we weren't expecting was the 2 different types of USB power slots directly on the panel, meaning you can charge your devices straight from the panel, with no middle battery necessary. And because it has surge and short circuit protection, you don't need to worry your phone is suddenly going to fry.
So how did it work with the Explorer? In a word, beautifully. We left it open while chopping wood and spending time in the woods, with our phones and Bluetooth speakers plugged in, and the power hardly dropped the whole time. For future camping adventures, I can see how this combo will keep our digital nomad lifestyle up and running so we can work wherever we happen to be in the great outdoors.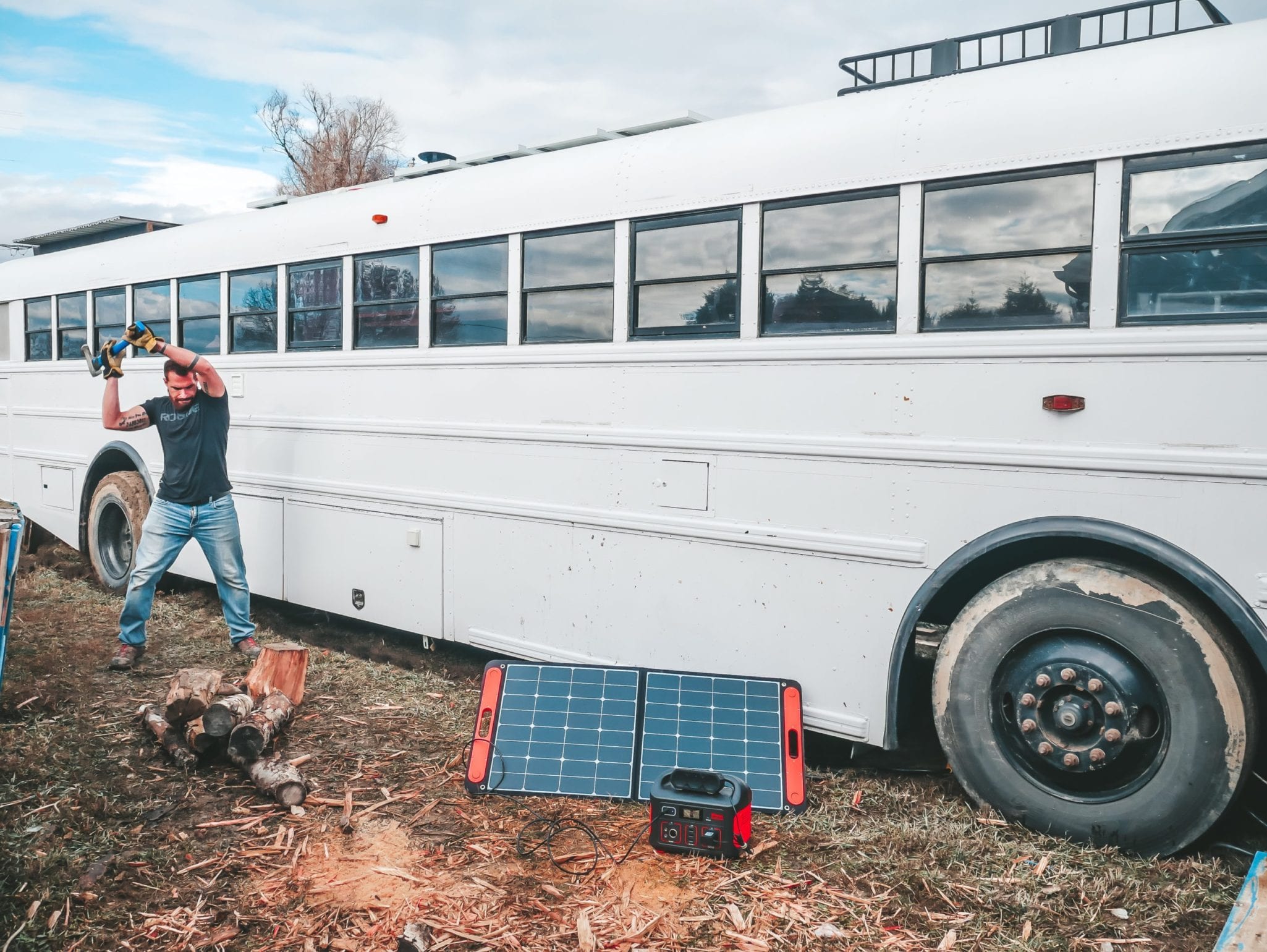 SHOULD I BUY THE JACKERY EXPLORER 500 AND THE SOLARSAGA 100W SOLAR PANEL?
If you're reading this, I'm assuming it's because you're considering purchasing a power station or solar panels for yourself. And if you are, in my opinion, the answer to that question is yes.
We've found so many uses for that little battery already, and I know as summer hits there will be even more. And if you don't need the bigger 500W unit, the smaller units Jackery makes offer further solar solutions.
While we were sent the Jackery Explorer 500 to try for free, having used it now, I would absolutely put my own money into a purchase to own it. As a matter of fact, as Christmas comes up, we've considered buying units for families who spend a lot of time in the beautiful Montana woods.
If you're curious about the other products they offer, check out Jackery's website to see all their solar solutions!