Our Favorite Skoolie Kitchens
We have affiliate agreements with certain brands and companies. If you purchase items or click on links through this site, we might get a kickback from those brands or companies. This doesn't affect you or what you pay in any way, but it does help fund our journey - so thank you!
Today, we're counting down our top five favorite skoolie kitchens from some of our favorite Instagrammers!
While we love the layout in our little home on wheels and are somewhat biased, there are so many layouts and designs out there that are just amazing within the skoolie community. Today, we'd like to give credit where it's due and feature five of our absolute favorite skoolie kitchens from fellow nomads.
Without further ado – our top five favorite skoolie kitchens!
HANZIAN BUS
The whole Hanzian Bus, owned by Ian and Hannah, is absolutely stunning. We love the crib area they've made for their little princess, and their tiny bathroom with its antique vibe is adorable.
Their kitchen, however, is where it really shines. Most skoolies choose bright colors to help open the space and keep it as open as possible. Ian and Hannah kept their fixtures and decorations neutral but popped their cupboards with bright and bold teal – and it totally works!
View this post on Instagram

The kitchen features butcher block countertops, a huge farmhouse sink that doubles as a bathtub for their little one, and a full-size range. The cupboards offer ample storage with pullout drawers and pantry-style storage, and further open shelving along the ceiling allows a changing display of kitchen items and decor.
The user-friendly layout and perfect color scheme put the Hanzian Bus firmly in our top five favorite skoolie kitchens. See more @hanzian_bus.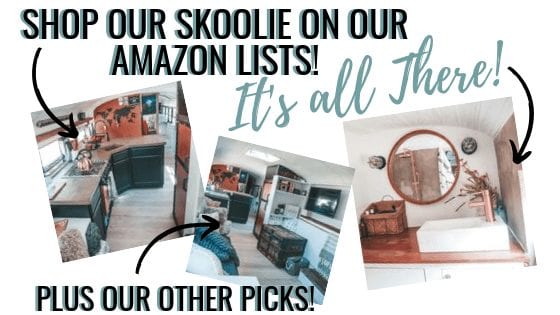 EVERGREEN BUS
The Evergreen Bus features a center aisle-style kitchen, with a range on one side and a sink and refrigerator on the other. There are so many things to love about this kitchen we don't even know where to start!
The full-size fridge is offset into its own nook, and the kitchen also offers a standard range and a large sink. In an unusual color twist, the counters match the white walls, the appliances, and drop-in sink are black, and the cabinets, true to the bus's name, are a deep green. The whole scheme just works for us.
View this post on Instagram
We also love the individual tiny windows with their wood casing and roll-up curtains, and the tiny woodstove that sits just beside the kitchen. Owners Daniel and Brooke obviously have an eye for detail and design!
While we personally favor kitchens set to one side, this one got us with its clever design and beautiful "evergreen" color scheme. See more of the Evergreen Bus @evergreen.bus.
SOME DRIFTERS
Dubbed "The Dirt Turtle", there is so much on this bus to love, and it's hands down one of the best builds out there. The kitchen is what we're focusing on today, however, and this is a showstopper.
What this skoolie kitchen lacks in space, it makes up for in the design. Curved white cabinets are finished with matching curved counters and carved wood doors. A small cooktop and round sink are burrowed into the butcherblock counters, and the whole neutral scheme is finished with tile backsplash (spice shelves built in!) that runs seamlessly into the rock wall behind their tiny stove.
View this post on Instagram
On the other side of the bus, a fridge is nestled into the wall, and a flip-up dinette comes out of a buffet-style hutch. I can't think of a cozier place to sit and eat a meal than the kitchen of the Dirt Turtle.
This skoolie kitchen is too beautiful for words, so head on over and see it yourself @somedrifters.
THIS IS BUS
Dustin and Amanda travel full-time with their son, Ezra, on their bus, which has one of the cutest and most cleverly designed tiny kitchens we've seen.
The "U"-shaped kitchen's most prominent feature is the large copper sink, which doubles as Ezra's bathtub! Set at an angle and built under the wood counters, the hammered copper in an otherwise neutral color scheme steals the show. The kitchen's other fixtures, including an adorable little fridge and full range, match the white cabinetry.
View this post on Instagram
One of our favorite features is open shelving that utilizes hanging jars underneath for pantry storage. A myriad of spices and baking items in glass jars keep counters clear and act as decor – pretty and functional!
The crowning jewel in this kitchen is the skylight above it, bringing natural light into a tiny space and really opening it up. See more of this lovely little kitchen @thisisbus.
THE MAYES TEAM
Gabriel and Debbie have impeccable taste, and this kitchen tops our list because of the L-shaped design we mimicked ours from!
View this post on Instagram
Butcher block counters with an under-mount sink, a tiny range and an undercabinet sink make for a sleek and minimalist feeling design. A row of upper cabinets allows storage where many buses don't have it. The basic black and white color scheme allows the wood counters to really pop, and the white tiled backsplash finishes a design that stays completely neutral and keeps the bus feeling open and airy.
This bus has since transferred ownership, but you can still see photos at @themayesteam.
OUR TOP FIVE FAVORITE SKOOLIE KITCHENS
We hope you enjoyed this skoolie kitchens feature, one we plan to repeat with skoolie bathrooms, living spaces, and more! Do you think we called it wrong? Got a skoolie kitchen that should be added to this list? Email us at info@sincewewokeup.com and tell us!