Making Money While Traveling Full-Time
We have affiliate agreements with certain brands and companies. If you purchase items or click on links through this site, we might get a kickback from those brands or companies. This doesn't affect you or what you pay in any way, but it does help fund our journey - so thank you!
We get asked about making money while traveling full-time a lot. And as people who once lived in a big sticks and bricks home living paycheck to paycheck, we get it – the idea of being able to leave the nine-to-five and work from wherever sounds a little out of reach.
But millions of people are now proving that remote work isn't a pipe dream. Especially after this last year, when a pandemic forced people all over the globe to work from home, the opportunities to work from wherever you can find WiFi have grown.
We changed our entire lives around in 2018 and made decisions that now allow us to work from the comfort of our tiny home on wheels and travel wherever and whenever we'd like, taking our jobs with us. In this updated post from our original one when we first took off, we break down those decisions and how we make this life work financially.
That said, it's a lot of info, and if you'd like a more in-depth breakdown, you can see it in our PDF download, "How We Travel Full-Time". This is a more comprehensive write-up of how we downsized, the lifestyle changes that allowed us to free up income, and how we make working on the road work. We wrote it workbook style so you could use it as a jumping-off point for your own journey.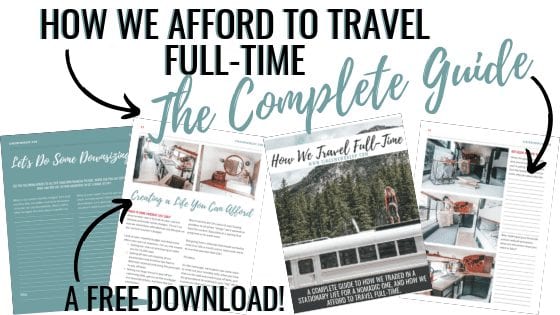 If you want the short version without the details and workbook, however, continue reading below to get some ideas about making money while traveling full-time!
CREATING A LIFESTYLE THAT AFFORDS TRAVEL
Affording this lifestyle isn't just about making money while traveling. It's about creating a lifestyle that you can afford while traveling. Let's break down our old lifestyle next to our new one.
Once upon a time, we owned a three-story home and a business. We had a new car and cool gadgets and everything that is supposed to make us happy to work full-time to afford it. While we were working for ourselves, which is definitely a perk, this lifestyle came with a large mortgage, business debt, credit card debt, a car payment, and so much more. To make ends meet each month just on our personal budget was around $4K a month, and more than double that if we count business expenses.
OUR OLD BUDGET
Mortgage: $1,500
Utilities: $200 – $500
Car Payment/Insurance: $750
Credit Cards/Debt/Student Loans: $1,000
Phone: $120
Total? Between $3,570 and $3,770 a month. I'm not including expenses that come with any lifestyle, like groceries, or our many business expenses. I'm just looking at the expenses that are specific to our personal life back then, and ones that most people have in their own lives.
We downsized a lot – partly because it was necessary for moving from a 3,000 square foot home to a 250 square foot one, and partly because we wanted out of the debt that came with it. We sold our home and car, closed our business and sold off the pieces of it, and sold off a ton of our possessions that we didn't need.
In doing so, we immediately rid ourselves of a lot of debt and monthly payments (goodbye mortgage and car payment!) and freed up funds to pay off most of our remaining debt.
OUR NEW BUDGET
Propane: $20
Phone: $120
Insurance: $160
Diesel: $0 – $1,000
In other words, our monthly personal budget is between $300 and $1,300. Because we don't pay for parking, on the months we don't travel much our budget is basically just a few small bills. The most we've ever paid in one month for diesel (we were traveling hard!) was right under $1,000. The takeaway is that even with a large gas bill, our monthly expenses are less than our old mortgage payment was. This means finding a remote job came with a little less pressure, because our monthly expenses are so much smaller – we didn't need a big paycheck to make ends meet anymore. A smaller one would suffice.
So on to the next – what do we do for work?
FINDING A JOB YOU CAN TAKE ON THE ROAD
When we decided to convert a school bus, we owned and operated a gym in Montana. We'd been personal trainers for most of the last decade before, but we knew we needed to look outside our current skill sets if we wanted to turn the idea of making money while traveling full-time into a reality.
Mike and I are both decent writers, so we researched and applied with some different writing companies before finding and settling with one. We both worked creating SEO blog content for others through this company for the first year of bus life, and it allowed us to step away from the gym and into remote freelance work. You can see exactly how much we started with in our free PDF download.
The situation is a little different now. Mike still works exclusively creating SEO content as a writer, working about 25 hours a week. Because we require less, he can work less and leave more time for adventures on the road or building our little homestead, but he still makes a decent monthly income working half as much as he used to.
Over the course of the first year, more and more of my time began to be needed for our social media until it became my full-time job. Today I manage the social media accounts of a few small businesses to help them grow after finding success on my own. I also run this website and our own social media accounts, which each come with a small revenue stream from affiliates we work with. So how does that work?
PASSIVE AND AFFILIATE INCOME
Our website and social accounts offer a chance for me to earn both passive and active affiliate income.
I earn passive income, meaning I do the work once and continue to get paid from it with no other work needed, through this blog. As the disclaimer at the top of every post states, when you click certain links in posts, I get a commission for including it.
This is a super easy, albeit not super lucrative, way to earn money. When I purchase things for the bus, people inevitably ask where I got them. When I mention them in my social media posts or on this blog, I can include an affiliate link and get a kickback for the recommendation. It's easy because it's something I already use and love and would recommend – the difference is I can now get a small kickback for recommending it. For instance, someone asks me about a decor item in this photo, and I can send them to our Amazon page, which offers a shoppable photo they can click on and see at no cost to them while earning a small amount for our journey.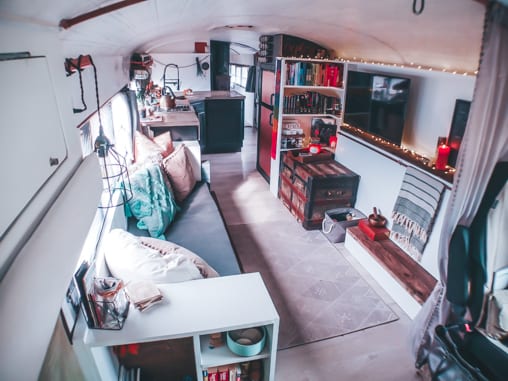 We also have a few affiliate partners we work with that pay us each month to post and show how we use their products. This is another easy way for us to have a little side hustle. We use the products all the time, so it's a simple matter to pull out the camera when we do and show our followers! We use products that make our lives easier and get paid to do it – another win/win.
MAKING MONEY WHILE TRAVELING FULL-TIME
Obviously, this isn't an all-inclusive post, but it's meant to explain that making money while traveling full-time isn't just possible, it can be easier than you think. Especially if you've first downsized your monthly budget!
The free PDF download for our "How We Travel Full-Time" eBook is meant to help you start planning your own escape from the nine to five. It goes into a little more detail about what we've covered here, but mostly we meant it to be a workbook for your own journey. It turns the mirror and asks you to dig into your own situation, with actionable steps you can start incorporating into your own life while paralleling our journey and how we made it happen.
Thousands or perhaps millions of people are now living nomadic lifestyles on the road. And there's no reason you can't join them if you really want to. Download the workbook and get started on your journey today.