Two Years of Living in a Bus
We have affiliate agreements with certain brands and companies. If you purchase items or click on links through this site, we might get a kickback from those brands or companies. This doesn't affect you or what you pay in any way, but it does help fund our journey - so thank you!
It feels like I was just writing our one-year post about living in a bus, and here I am reminiscing on two years of bus life! This year looked quite a bit different than the first, with Covid and travel restrictions, but the lessons we learned remained more or less the same. Rather than write the same post over again, detailing the ups and downs, we decided to do something a little different for our two-year bussiversary – we created a video tribute to year two.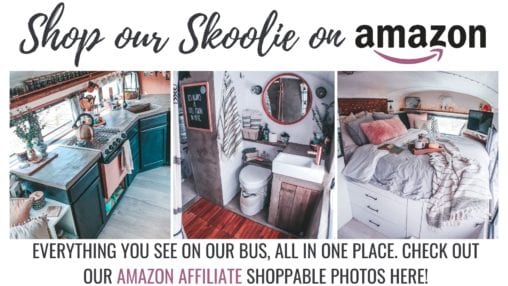 Want to see what year two looked like through our eyes? Keep reading.
LIVING IN A BUS – YEAR TWO
During the first year we traveled, we didn't record a lot of video. Copious amounts of photos? Absolutely. But video wasn't a medium I'd yet become comfortable with, and so most of our trip wasn't filmed in any way. However, in year two I became more comfortable in front of a camera and behind it, and we started filming more and more of our travels and daily life for our Instagram stories and TikTok.
Along the way, we amassed quite a library of film, including a collection of behind-the-scenes moments. For every video we released on social media, there would be a number of clips we captured that didn't make the cut. Some were just private moments Mike or I managed to grab when the other person wasn't paying attention. Some were caught between filming as the camera rolled for other projects. Still others were random iPhone videos we grabbed in the moment and then forgot about.
When we rolled them up, we realized we had a video of our favorite moments from this last year, and what bus life looks like through our eyes. While we had a few moments that belong in a "downsides of bus life" reel, and the world wasn't exactly calm in 2020, year two of living in a bus was extraordinarily peaceful for us, a haven amid the chaos of the world. We started building a tiny homestead between our travels, worked on new projects like our upcoming book, and spent as much time as possible enjoying the outdoors, wherever we happened to be.
ARBOUR SEASON
We would like to take a moment before debuting the video to thank Arbour Season for giving us permission to set this video to their song, When I Get There. Shane and Emily are fellow bus lifers who create music on the road, and when we heard this song, it was like hearing the soundtrack of bus life as we've experienced it. This duo is both incredibly kind and talented, and we are beyond grateful they allowed us to use the song you're about to hear. You can check them out and hear more on social media @arbourseason or their website, www.arbourseason.com.
TWO YEARS OF LIVING ON A BUS, THE VIDEO
And now, without further ado, I present Two Years of Living on a Bus, the highlight reel through our eyes.