4 Things to Consider When Choosing a School Bus
We have affiliate agreements with certain brands and companies. If you purchase items or click on links through this site, we might get a kickback from those brands or companies. This doesn't affect you or what you pay in any way, but it does help fund our journey - so thank you!
Choosing a school bus wasn't a task we took lightly.
It seems like such a long time ago that we decided to flip our lives upside down and step away from everything we knew. In just one day, we resolved to sell our house and all of our possessions in exchange for a school bus to convert into our home.
We knew that to have the extraordinary life we wanted, we had to take extraordinary steps. Sell everything, buy and convert a school bus, pay off all debt, and travel whenever and wherever. This transformation would lead to a life of freedom and travel, our two biggest priorities.
CHOOSING A SCHOOL BUS, ROUND ONE
We learned at the outset that not all school buses are created equal. This lesson presented itself to us in the form of an 8-hour drive (both ways) for a bus that was wildly misrepresented both in pictures and by the salesman. Our hearts plummeted when we arrived at our destination and our eyes came to rest on the bus that we were there to buy.
It was in rough shape and looked at least 10 years older than the pictures depicted. Worse yet, the mechanic that met us there (salespeople are not there on Saturdays) told us that the engine was not long for this world.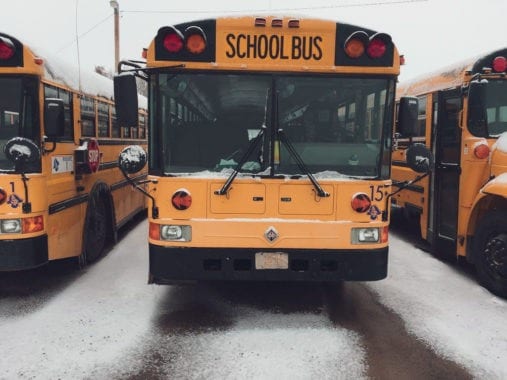 Additionally, the mechanic also told us that the bus wasn't run through the shop, though the salesman promised otherwise.
Most importantly, when we stepped onto the bus, it didn't feel right. In no way did it feel like our Oliver (the predetermined personification for our bus).
Regardless, we tried and failed to get a hold of our salesman, hoping to maybe look at the rest of their inventory. No luck. Ultimately, had to decide if we wanted to buy this letdown of a lemon or go home empty-handed.
The bus was super cheap at just $2,500 and all the paperwork was completed, waiting for our signatures and a check. It could maybe be okay, but we weren't even sure if it would make it home. Neither was the mechanic.
While Tawny and I are notoriously and unapologetically impulsive, we are not stupid. We left empty-handed, slightly disheartened but thankful we didn't commit to what would certainly have become a money pit.
CHOOSING A SCHOOL BUS, ROUND TWO
We came back home and immediately continued our search for the right bus. However, with options limited, it began to look like we would need to spend a lot more money than we wanted.
The next bus we looked at was a privately owned, blue, ex-Air Force bus. It was in phenomenal condition and was clearly well cared for. The caveat? He wanted $10,000 for it.
That may not seem like a lot, but most used school buses of decent condition go for about $3,000 – $6,500. Because there is a surplus of used school buses and very low demand for them, it is decidedly a buyer's market.
We liked the blue bus, a lot. In many ways, it was everything we wanted, but that price tag was far more out of our overall budget than we were comfortable with.
During the next week, as we debated whether to spring for big blue, I was talking to a client at our gym about our dilemma. Another client who was working out at the time overheard and asked, "Why don't you go see John about it? He can get you a bus for way cheaper."
John was her husband, and he worked at a local semi truck shop, which, unbeknownst to us, also sold school buses. For whatever reason, in all of our online searches for school buses, it had never come up. At the time, I couldn't understand why, because they had a veritable crap-ton of them on their lot. I know now, it was to teach us patience in finding the right Oliver.
CHOOSING A SCHOOL BUS, ROUND THREE
We went to the shop and met John there. He was a mechanic and therefore knew exactly what we should look for and, just as importantly, steer clear of.
He grabbed the sales manager and we went out to look at the inventory. There were at least 20 buses. Surely, one of them had our name on it, right?
Wrong. The sales manager himself shot down every bus that fit our specifications (size, condition, etc.), John supporting his judgment. It all came down to drivetrains, an aspect that Tawny and I had researched, but until that point, never realized just how important they were.
UNDERSTANDING ENGINES AND TRANSMISSIONS
Drivetrains are everything in the world of buses, even more so in the world of skoolies (converted buses). Why?
Because you're loading quite a lot of weight into it and traveling around with your home. When choosing a school bus, it pays to find one that can carry the weight through mountain passes and wherever else you might roam without slowing to ten mph or overheating.
We wanted a bus so that we could travel as much as possible. What good would it be then, to have a bus that couldn't take us anywhere?
The sales manager and John explained to us the differences between engines and transmissions. We came to agree with them that it would have been unwise to buy any of the buses on the lot at the time unless we wanted to spend a lot of money on repairs and/or a lot of time breaking down.
A GOOD BUS IS WORTH WAITING FOR
Fortunately, the sales manager (probably intrigued by our end goal) went an extra step and called his bus salesman who was out of town at the time – and we learned that two buses on a trade-in deal were on their way to the lot within the next few months.
Both of these buses just happened to possess the Holy Grail of bus drivetrains – the DT466 engine with the Allison 3000 transition. Dependable, cheaper to work on, and powerful. The buses also happened to be newer, and the exact size we wanted with limited mileage. Yahtzee.
We sat down with the sales manager that day and claimed the bus. We could back out, of course, if something arose that we didn't agree with, but at least we had our name on it. Then we asked the question that could derail the moment.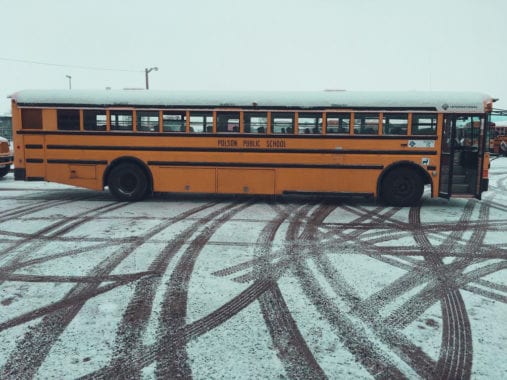 "How much?"
He looked at us and said, "Well, most of the time we sell them for about $5,000, but we can cut you guys a deal." It was the best thing we could have hoped for. We had found Oliver.
With our search over and behind us, and in hopes of saving anyone who happens to be on a similar path some of the tedious legwork we had to do, we came up with a few factors you need to consider when choosing the right one.
1. SIZE
When choosing a school bus, it's important to consider how big you want your home to be. Are you willing to compromise room for easier driving? Keep in mind that driving a bus is much different than driving a car, or even a truck and trailer. A bigger bus means a bigger house, but also a bigger vehicle to turn and maneuver and worse gas mileage. Weigh your options and choose what's right for you and your family, considering both the space you need and where you plan to take your bus. As a side note we have found, however, that when driving a bus, people tend to get out of your way.
2. CONDITION
What is the most mileage you are willing to accept? What is the worst condition you are willing to accept? Schools generally take really good care of their buses, as they are used for transporting children. However, depending on where it's from, you need to consider rust (the destroyer of bus dreams) and the state of the engine.
Most of the interior will be gutted, so pay attention to the right things. Seats, floors, walls, etc. don't matter that much. Look into the engine compartment. Does it look well cared for? Clean(ish)? Does it have service records? Was it driven regularly?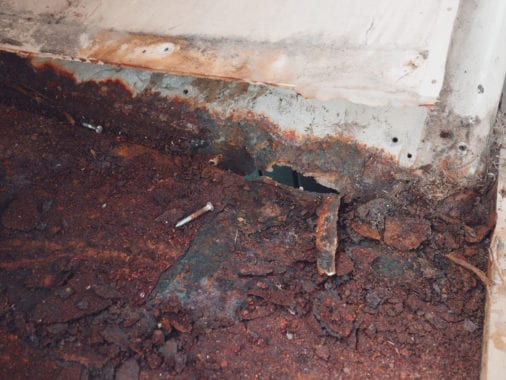 Next, look for that aforementioned rust on the underbelly of the bus, and make no mistake, there absolutely will be rust.
If the underside is flaking or has holes in it, it will need a lot of work, but for a decent drivetrain, it may be worth it if you have a metal fabricator on hand. If you aren't able or ready to deal with bodywork, pass on any major rust. Remember, you're putting a lot of weight on that floor.
TIRES
Finally, look at the tires. Bus tires are expensive. Though, you can retread/recap them to save money. This is where just the tread is replaced, but not the whole tire. This should only be done two or three times before the entire tire needs replacing. Don't retread front tires at all, however, as the torsion of turning can rip the retreads off.
Sometimes you can haggle a price down if the tires are in poor condition. However, I would never turn down a good drivetrain because of bad tires. Tires can be replaced, but an engine overhaul is a pricey endeavor.
Conversely, good tires may be worth paying a little extra for a bus, even if it seems a little much. A new tire is anywhere from $400-600, and retreads run about $250 per tire, so an extra thousand or so is still a bargain.
3. DRIVETRAIN
Obviously, I am particular about drivetrains and their importance in skoolies.
Drivetrain refers to the motor and transmission. When considering your drivetrain, know that some are more powerful and capable than others. Some buses slowly crawl uphill and have a limited highway speed, while others can cruise at 80mph or better with no problem and conquer hills with ease.
Another thing to think about is front-engine versus rear-engine buses.
Rear-engine buses can be slow on hills. They also eliminate the possibility of a back door. Some have even caught fire in certain makes/models. However, a rear engine also has more room up front and easier access onto the bus, better driver visibility, less weight (as most buses are also rear-wheel drive, so no need for a long drive shaft), more power, a better center of gravity/stability, significant noise reduction, and less heat for the driver (as he/she is not sitting behind a giant engine).
The general consensus, and the guidance given to us (although others will certainly disagree), is that the DT motors are the most dependable/longest lasting. CAT engines can be awesome but are super expensive to work on. Cummins engines are reliable but underpowered. And the T-series breaks down all the time.
4. THE FEEL
I know this may not seem important or even rational, but sometimes you have to go with your intuition.
When the two buses came finally arrived, we went to go look at them to choose, although we already had one firmly in mind. We wanted the one we thought was bigger based on the seats (that is when we learned that more seats don't necessarily mean more space).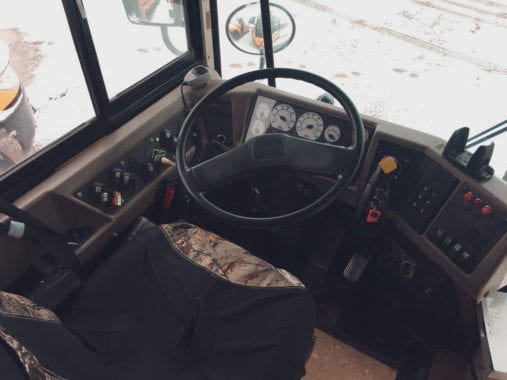 However, when we stepped onto it, it didn't feel good. We felt unconnected to it. It somehow felt cold and unwelcoming. So, somewhat disoriented, we went to the other bus and knew immediately that we had stepped onto Oliver.
Sometimes, your gut instinct knows better than anything logic. Follow it.
Choosing a school bus is both an exciting and a scary prospect, and we've heard many horror stories of life savings sunk into buses that turned out to be gigantic rust buckets or broke down 100 miles into the first big trip.
Although it took months longer than we thought it would, we finally found our bus. Everything we went through happened for a reason. Every wasted road trip, every delay, every setback, every ounce of frustration and dismay, and every feeling of hopelessness.
It all happened for our best outcome, though, it rarely felt like it at the time.
And that, we have found, is the beauty and joy of this life. Watching and experiencing in amazement how everything aligns just so, to give us what we never thought we wanted.