Little Gus the Bus: Skoolie Feature Friday
We have affiliate agreements with certain brands and companies. If you purchase items or click on links through this site, we might get a kickback from those brands or companies. This doesn't affect you or what you pay in any way, but it does help fund our journey - so thank you!
Today's Feature Friday is Little Gus the Bus, a short bus conversion with tons of personality.
Little Gus is home to Ben and Marie, who hail from Canada and France, respectively, and now live on a farm property in Canada in their skoolie conversion. Their bus might be smaller, but it packs a ton of thoughtful design and decor features.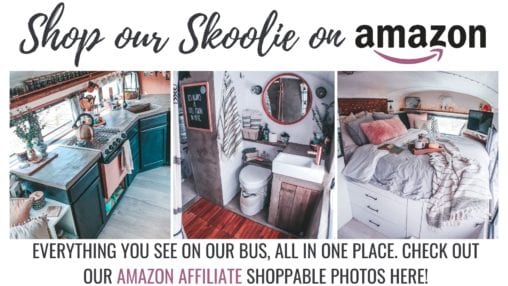 Besides that, we have a special affinity for this particular conversion because it takes grit to stick out a snowy winter in a bus. Getting up to restock a tiny wood stove, working to keep pipes from freezing, trying to insulate an area full of windows – let's just say there are challenges. Being from Montana and spending the last six months here, we know firsthand how hard winter in the single digits can be living on a bus.
And Ben and Marie made it through a Canadian winter, which we think earns them some special recognition and major kudos. Now, on to our favorite parts of this conversion!
CLEVER CURTAINS
Most curtains in skoolie conversions are handmade – because try finding ready-made curtains that will fit bus windows! And these are skoolie curtains done right. We love the insulation quality that these provide, and we especially love the snapping ties at the top to keep the rolled-up panels in place. It's a super classy and minimal look that keeps the windows feeling completely open.
View this post on Instagram
THE CUTEST LITTLE WOODSTOVE EVER
As we mentioned, Ben and Marie have weathered a Canadian winter in Little Gus the Bus. And they couldn't have done it without the help of their trusty little wood stove. We love their stove area, from the tiled surround to the little heat shield up top. But it isn't just functional, it's part of the overall design aesthetic and fits right in with the surrounding decor!
View this post on Instagram
DESIGN DETAILS TO DROOL OVER
Okay, those chevron-designed walls are almost too gorgeous for words, am I right? It's always the small, personal design touches like this that grab our attention in these conversions. The mix of raw wood and paint, the different textures and neutral colors – everything is this conversion just blends seamlessly together.
View this post on Instagram
A CUTE PAINT JOB
Maybe it's because he's a shorty, but for some reason, Little Gus the Bus's paint job is just ridiculously cute to us and matches the interior vibe perfectly. We love the pattern and balance between the two colors, and it helps that the cherry on top is that perfectly cute deck!
View this post on Instagram
A FOLDAWAY DINING TABLE
A dedicated dining table is one of those features that you don't find in every skoolie. Some forgo a table entirely, some build it into their skoolie plan as a bar space like we did, and some have stowaway or foldaway options. We love that this table is a dedicated space with the option to fold up into a bigger one! Plus, those little booths and that shine – it's just a beautifully done design feature.
View this post on Instagram
A FEELING OF SPACE EVEN IN A LITTLE ONE
The space in @littlegusthebus is at a premium, but you wouldn't be able to tell when you look at pictures like this one! Ben and Marie obviously really made the most of their space and packed so much into their build! Look at how open and airy this feels!
View this post on Instagram
LITTLE GUS THE BUS
Want to see more of Little Gus the Bus? Check out Ben and Marie's Instagram page @littlegusthebus!
Have a skoolie you think we need to feature? Email us at info@sincewewokeup.com and let us know!