Wander Jah Buslife: Skoolie Feature Friday
We have affiliate agreements with certain brands and companies. If you purchase items or click on links through this site, we might get a kickback from those brands or companies. This doesn't affect you or what you pay in any way, but it does help fund our journey - so thank you!
Today's Feature Friday is Wander Jah Buslife – an Australian-based bus conversion with serious design style.
We are actually featuring one bus conversion on two accounts today! The @wander_jah_buslife and @runningwld_mama accounts both feature the adventures of Lloyd the skoolie and his entourage – Jed and Marthe and their children, Ellida and Embla. The accounts are worth a follow not just for the gorgeous conversion but for the seriously amazing scenery they encounter as they travel down under.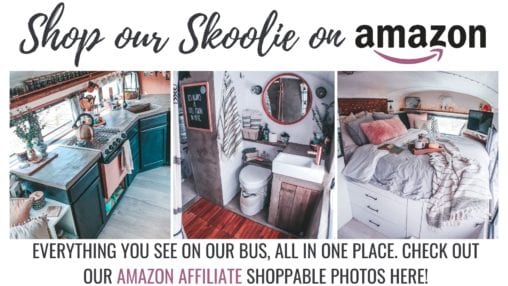 So what's so amazing about this bus conversion? A lot.
We actually had a hard time narrowing down our favorite features on this bus because there were so many. So without further ado, on to the feature!
THAT KITCHEN, THAT KITCHEN, THAT KITCHEN
Seriously – what's not to love in this photo? The tiles are absolutely the focal point, adding texture and depth to the space. We especially love them matched with the sleek countertops and raw wood on the cupboards and ceiling. This is a tiny kitchen that packs big style.
View this post on Instagram
A BUS WITH ROOM FOR A FAMILY
This photo of their kiddos sharing the family room with those from fellow traveling families during a meetup absolutely hits us in the heart. Just because you have a tiny home doesn't mean there isn't room for community and family, and this photo is proof. Tell me you don't immediately feel the homey vibe in this space!
View this post on Instagram
A SLEEK EXTERIOR
Lloyd isn't strictly a skoolie, in that he wasn't a former school bus. We won't hold that against him, however, because we can't get over how sleek and streamlined his exterior is! We love the paint jobs on our fellow skoolies, but we won't lie – we're a little jealous of this look with its large windows.
View this post on Instagram
WINDOWS AS FAR AS THE EYE CAN SEE
Speaking of windows, check out these views! On our own skoolie floor plan, we chose to leave as many windows as possible open, but this is a whole other level of windows to the outside. Those huge, largely unbroken views totally have us drooling over here.
View this post on Instagram
AN ADORABLE BATHROOM WITH A CONCRETE TUB
Having a bathtub in a bus conversion is tricky – it has to be worth the space and options are limited. With two young kiddos who need baths, however, we think this is a bus tub done right! Small and unobtrusive, it still packs style and fits perfectly into the design and decor. Interesting fact? This tub is actually a concrete planter!
View this post on Instagram
WANDER JAH BUSLIFE AND RUNNING WILD MAMA
Want to see more of Lloyd and his family? Check out both the @wander_jah_buslife and @runningwld_mama Instagram accounts for more adventures!
Have a skoolie you think we should feature? Let us know at info@sincewewokeup.com!