Bus Goblin: Skoolie Feature Friday
We have affiliate agreements with certain brands and companies. If you purchase items or click on links through this site, we might get a kickback from those brands or companies. This doesn't affect you or what you pay in any way, but it does help fund our journey - so thank you!
Today's Feature Friday – the Bus Goblin!
Better known as Holly, this red-haired artist also known as the bus goblin is one of my (Tawny's) personal favorite accounts to follow. Why? She's fun, creative, and has an open, adventurous, can-do attitude. I'm also a huge fan of her art, which she makes out of her bus, Wander, under the name Pine Barren Press.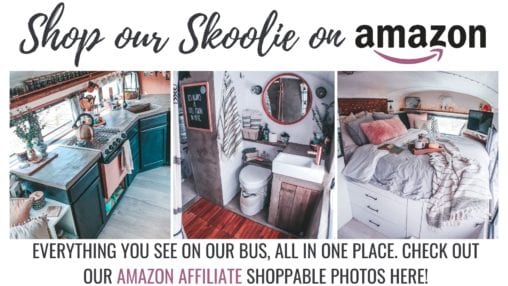 Her skoolie is as unique and creative as she is, and as you'd expect, is self-designed and built. Let's dive into our personal favorite parts of this tiny home on wheels!
THE REAL FACTOR
Converted buses come in all shapes, sizes, stages of transformation, and executions. Some are half-finished adventure rigs geared more toward the destination than day-to-day living, some are showstoppers with top-of-the-line gadgets, and some are somewhere in between. What we love most about @busgoblin is the real factor – it's a well-executed and designed skoolie that's well-built and attractive, but it's also completely real, with no "staged" effect whatsoever. Books, found treasures, art supplies, and the detritus of a life being lived here are evident everywhere you look, and we LOVE how real it is.
View this post on Instagram
A TRUE GOBLIN EXTERIOR
From the heavy-duty box upfront to the green paint job with wood trim to that fold-down table on the side – this bus totally gives us a goblin vibe. Wander looks ready to head anywhere and face anything, and this is another case of the outside totally matching the inside.
View this post on Instagram
SO MUCH COZY
Besides the lived-in vibe that we love, we love how every nook and cranny of this bus looks cozy. Our bus has a few places that are little havens for us, cozy seats that we love to curl up in. But it looks to us like you could literally plop just about anywhere on this bus and be comfy!
View this post on Instagram
THIS ART WORKSPACE
As we mentioned, Holly creates art out of Wander under her business name, Pine Barren Press. We totally love her style and the creations that come out of this space, and we also absolutely love this little dedicated workspace. Since space is at a premium in a bus conversion, you really see people's priorities and passion come out in their builds. This little goblin's priority? Her art. And we dig it.
View this post on Instagram
LAYERS OF TEXTURE AND CHARACTER
This is one of our favorite photos of the bus, not because it's clean as the caption states, but because you can see the layers and layers of texture, color, and character that this skoolie holds. From that tiny blue fridge to the feathers and papers and souvenirs held with magnets all over the ceiling to doors covered in cowhide and chalkboard paint – this bus has a style and vibe all its own.
View this post on Instagram
SIDE DOOR GOALS
I'm not sure we've ever mentioned a side door as a feature of a build before. While many skoolies have them, they're mostly just there. Some skoolies have found interesting ways to make them more useful, like @deliberatelifebus putting theirs in the bathroom, but mostly they just hang out, an additional exit. Leaving no corner redesigned, Holly tricked hers out and proved that no matter where you land in this bus, you'll be comfortable.
View this post on Instagram
THE BUS GOBLIN
Want to see more of Holly, Wander, and the Pine Barren Press art studio on the Bus Goblin? Check out her Instagram account @busgoblin for more, including the amazing artwork!
Have a skoolie you think we need to feature? Send it to us at info@sincewewokeup.com!