The AFG Fireball from Quora Distribution: A Review
We have affiliate agreements with certain brands and companies. If you purchase items or click on links through this site, we might get a kickback from those brands or companies. This doesn't affect you or what you pay in any way, but it does help fund our journey - so thank you!
Today we're reviewing the AFG Fireball by Quora Distribution, a fire extinguishing system that we firmly believe every home should have.
Now full disclosure, we were sent the Fireballs we tested for free. However, after learning about their product, we actually reached out to Quora Distribution – not the other way around. Their response was to schedule time with us to learn about us, our needs, and our interests. Then, they offered to send us their product to try out for ourselves.
And we did. After hours of research and hearing others' stories and testing the products for ourselves, I will give the punchline away early – your home NEEDS the AFG Fireball.
If you want to hear about our personal experience (and see the Fireball in action!) keep reading.
Or, if you want to just see the actual Fireball, click here!
WHAT PROMPTED US TO LOOK INTO THE AFG FIREBALL
We love our tiny home, and we especially love our little wood stove that's been cooking all winter.
But let's be honest – wood stoves come with safety concerns. And then we add a solar and electrical system and a propane system and the fact that our house literally sits on a 100-gallon gas tank, and you realize even a small fire could get out of control quickly in such a tiny space.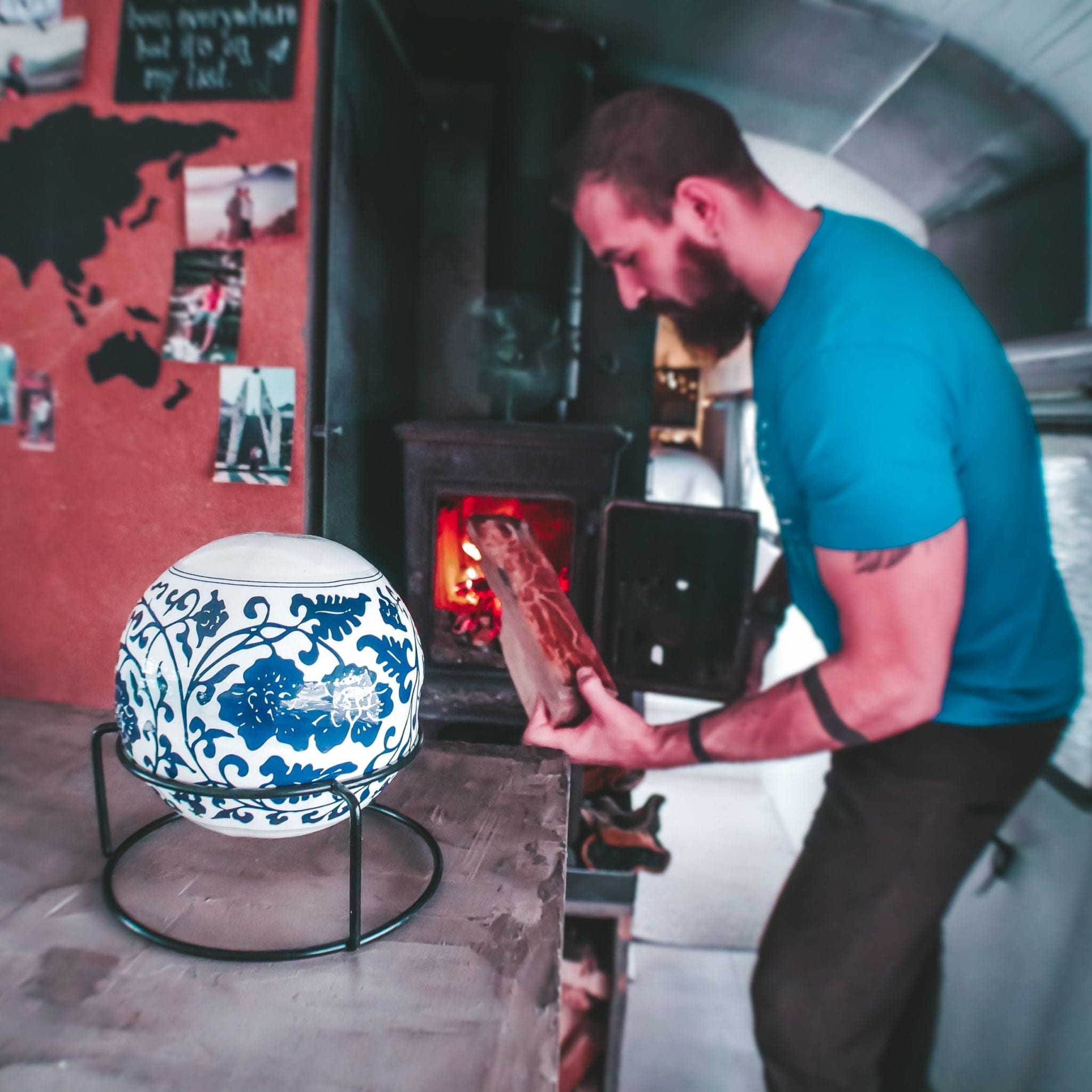 The thing is, fires are a major concern even in traditional homes. When I was young, I watched my aunt's home catch on fire when a BBQ propane tank exploded on her porch. Within minutes the entire structure was on fire, and we watched with her while her house burned to the ground. She barely got her two small toddlers out in time, and only my brother's timely intervention saved her dog, who was in the backyard.
That left a mark on me, and I've had a healthy respect for the destructive power of fire my whole life.
However, fire also gives warmth and life. When we embarked on this bus project, we knew we would need a wood stove and propane system. We did our best to go above and beyond with the safety measures necessary for both, but I've retained a small worry in the back of my mind.
Things like "what if there's a fire in the middle of the night while we sleep" and "what if a fire starts while we're away and Apollo is trapped inside" echo in my head. And even with a CO2 detector and smoke alarm and fire extinguisher, the worries remained. You have to catch a fire fast for an extinguisher to have any real effect – what if we were sleeping or not home?
And then my worst fears were realized when our chimney backed up one night, catching on fire and filling our little home with smoke. Luckily, it was quickly taken care of with no damage. But that was enough.
A day later, a post popped up on my IG featuring the Fireball. I watched, then watched again. I researched. And I watched more. And then finally, I emailed the distributors. Within a week I had a Fireball sitting by my stove – and went to bed for the first time since we started using the stove without a worry crossing my mind.
WHAT IS THE AFG FIREBALL?
The concept for the Fireball actually came from a device invented by Thomas Edison in 1814, a "fire grenade" modeled after his lightbulbs that were temperature-activated. However, his device used a toxic substance and it was eventually regulated out of production for safety reasons.
Two centuries later, our knowledge of fire has grown exponentially, and a former firefighter used his knowledge and experience to create a similar device. Loudly acknowledged as one of the greatest advances in firefighting, his device is the first federally approved automatic extinguisher of its kind.
Designed to be used in homes, businesses, RVs, and cars
Meant to hang or sit next to potential fire hazards
A set-it-and-forget-it form of fire safety – in the event of a fire, it acts as an extinguisher and alternative to a sprinkler system
Non-toxic and safe to use
HOW DOES THE FIREBALL WORK?
The Fireball uses a proprietary blend of non-toxic dry chemicals, which activate when they're exposed to certain temperatures or fire. When these chemicals are activated, they stop the chemical chain reactions taking place that fuel the fire, cutting it off and extinguishing it. It doesn't remove oxygen, fuel, or heat – it simply stops the fire.
And you don't have to be present to activate it. Once the Fireball senses fire or heat above its acceptable threshold, it self-deploys.
REASONS WE LOVE THE FIREBALL
The Fireball is non-toxic and safe for use around both humans and animals. As a matter of fact, at the end of its lifespan (15 years), it decomposes into a natural fertilizer. You can open it up in your garden and use the contents in your garden! We're vegan, going zero-waste, tiny-living hippies over here, so you know we're all about staying as natural as possible.
It works automatically. I was in the nursing field long enough to know that when adrenaline is pumping, you don't always work well under pressure. The Fireball removes human error and works even when you aren't home – a huge peace-of-mind thing for me when my fur baby is home alone sleeping in his giant bed.
Even in a bigger fire, it would buy time. Let's say a fire starts in your home that quickly gets out of hand. The Fireball may not completely put the fire out,  but it will buy you time and slow the progress of the flames. I remember how fast my aunt was to grab her kiddos all those years ago. And I can tell you – every second counts in a fire.
It works on three classes of fire. Traditional extinguishers each work on their own class of fire, meaning you would need a Class A, B, and C extinguisher to do what the mix of chemicals in one Fireball can do. If you have an electrical, gas, or organic material fire in your home, the Fireball can take care of it.
It's tiny and blends in. Our fire extinguisher is big and red. The Fireball looks like a small ornamental globe that sits near our stove.
You don't need to be up close and personal with the fire for it to work. If a fire starts, you can literally pick the Fireball up and lob it into the flames from a distance. There, it will explode and do its job.
You can clean it up with a mop. Can you imagine the mess from an overhead sprinkler system or fire extinguisher? Water all over your electronics, chemicals everywhere? The Fireball can be cleaned up with a mop and bucket.  And unlike water, it's safe for your electronics!
They're affordable. Most fire extinguishers have a short shelf life and must be checked every year. The AFG Fireball is meant to last for 15 years with no inspections. This means you're paying less than $10 a year to have peace of mind for your house.
HOW DID IT WORK FOR US?
The guys at Quora, who are genuinely amazing, sent us Fireballs to use in our bus, and some additional ones to test out. I can't tell you how much fun Mike had filming those videos, which you can see below or on our IGTV.
We have a decorative Fireball sitting on our counter near the wood stove. A mini Fireball sits strapped inside our propane tank enclosure under the bus. A third Fireball lies in our bedroom as a failsafe, in the event a fire started and we couldn't get to the front of the bus (our wood stove sits directly in the middle).
We were super impressed with the design, ease of use, and effectiveness of the Fireball. If a fire started in the night, the loud bang that sounds when it deploys would also act as an alarm and wake you up. It put out the fire we started, impressing us with how quickly the flames were extinguished. When I say the flames were gone as soon as it deployed, I mean, like, the second it went off.
See it in action below!
DO YOU NEED AN AFG FIREBALL?
In a word – yes. We feel especially passionate about the need for fire safety in fellow tiny homes. However, we also believe every home should have at least one of these on hand. If we still owned our business we would invest in the Fireball there as well. We also plan on purchasing them for members of our family.
In fact, we feel so strongly about it that we plan on hooking up with the guys at Quora Distribution to do a giveaway in the near future so we can help others have the peace of mind we've been granted.
If we've convinced you that you should look into the Fireball, click here!
Got questions? Email us at info@sincewewokeup.com and we'll do our best to answer!