This is Bus: Skoolie Feature Friday
We have affiliate agreements with certain brands and companies. If you purchase items or click on links through this site, we might get a kickback from those brands or companies. This doesn't affect you or what you pay in any way, but it does help fund our journey - so thank you!
Today's Feature Friday is This is Bus!
We've followed Dustin and Amanda for quite some time, along with their adorable entourage of two pups and a kiddo named Ezra who all live in their skoolie. In fact, we had a hard time narrowing down the features we love most on their bus!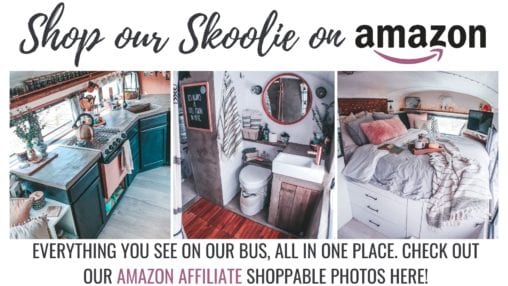 We decided that mostly, we just love their vibe – which is utterly genuine. This is an account we don't just follow for pretty bus pictures. We love following their story (for instance, they are about to become parents for the second time), hearing about the mishaps (like Ezra's recent tooth mishap), and witnessing the love that they have for each other and their son.
Want to see what I mean? I bet you'll feel all sunny and warm after looking through these photos – and it's not just because their skoolie contains all the warm shades of the desert!
THAT COPPER KITCHEN SINK/KID BATHTUB
One of the standout features on @thisisbus is without a doubt that hammered copper farmhouse sink. It's an instant eyecatcher, and that's saying something in a bus full of amazing design details. But the fact that it doubles as a toddler bathtub? That puts it completely over the top on our wow-o-meter. When building a bus, thinking of creative ways one item can do multiple jobs is a must to save space, and this is one of those examples where creative thinking and good planning are evident.
View this post on Instagram
THE RETRO PAINT JOB
We love that the outside matches the inside. The retro stripes on the outside in shades of yellow and orange flow inside to a similar color scheme that focuses on sunshine and warmth. I always know I'm seeing a photo from them in my feed before I even see the name, with their vibe that makes me feel like I'm in the heat of the desert even in the middle of a Montana winter. This paint job is perfect – understated and minimal with a firm stamp of their own personality.
View this post on Instagram
A COMPLETELY OPEN LAYOUT
This floor plan is perfect for a family with small kids in that it's open and allows lots of space to move and grow. We can totally see Ezra running around like crazy up and down the hallway, flipping onto that couch, and family time spent cooking and relaxing. When you live in such a small space, using it to the best advantage is key – and we think this layout really does.
View this post on Instagram
A BED MADE FOR FAMILY CUDDLES
Besides the fact that this room looks utterly relaxing and inviting and warm, can we just agree that this bed looks like it's absolutely made for family cuddle sessions?! Taking up the whole back of the bus, @thisisbus has one of the most awesome beds we've seen in a skoolie. And with two dogs, a toddler, and an infant on the way, it's another marker of thoughtful planning that this bed can fit a whole crew!
View this post on Instagram
EVERYTHING IN THIS HALLWAY
I'm cheating a little because this photo has multiple features I love, but since I'm also posting this Feature Friday on a Saturday, I think it's cool to break the rules a little more. In this photo, you can see Ezra's bunk, his bookshelf, a washer/dryer unit, the bottom of that super plush bed, and of course, the four-legged members of the family. We love that Ezra has his own little space, complete with a bookshelf. We also love that they have their own washer/dryer, a nicety that not every skoolie has. Mostly, we love the way this space, while tiny, flows together. And look at those gorgeous pups!
View this post on Instagram
EVERYTHING ABOUT THE KITCHEN
It isn't just the sink that's awesome in this kitchen – it's everything. From the butcher block counters with their gorgeous lines, the tiny white full-size stove, that adorable retro-looking fridge, and the clever use of jars under-mounted to the shelves, this little kitchen is absolutely perfect. While we also love modern kitchens, this one feels absolutely homey to us. The macrame hangings, photos, warm woods, and little tiles make this seem like a place to gather and share.
View this post on Instagram
THIS IS BUS
If you want to see more of This is Bus, you can follow their adventures on their Instagram @thisisbus.
Have a skoolie you think we need to feature? Email us at info@sincewewokeup.com!