Sloth High Five: Skoolie Feature Friday
We have affiliate agreements with certain brands and companies. If you purchase items or click on links through this site, we might get a kickback from those brands or companies. This doesn't affect you or what you pay in any way, but it does help fund our journey - so thank you!
Today's Feature Friday – Sloth High Five!
The Sloth High Five skoolie, or the "Up" Bus as it's known, is one of the most easily recognizable-at-a-glance skoolies around thanks to its unique paint job that mimics the house that travels through the sky in Pixar's "Up". We personally loved the tale, a love story of a different kind that reminds us it's never too late to dream and explore and make things happen.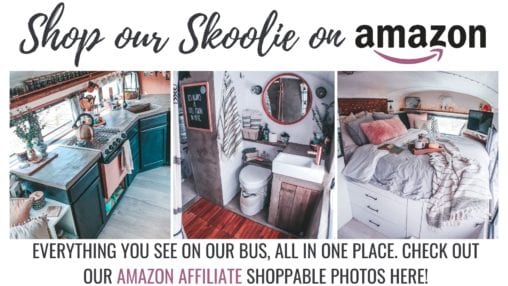 But a cool paint job isn't the only thing this skoolie has going for it. There are lots more to discover beyond the green, brown, yellow, blue, and pink. Keep reading to learn more about this adventurous tiny home on wheels!
A LIVING ROOM WITH A DISAPPEARING TV
By far one of the coolest features on the bus is the giant TV that disappears into a built-in sideboard in the living area. Not only is it rare to see a television this large in a skoolie, but to watch it magically disappear is pretty cool. In fact, this space is adaptable enough that they were able to host a Superbowl party this year with nine people! Having a TV that can be stowed away means they still have access to the windows and didn't need to wall off an entire area, keeping the space open and light when the TV isn't in use.
View this post on Instagram
THE COOLEST LITTLE RETRO STOVE
This little retro green range fits so perfectly in this space it's almost too much. We love their kitchen, from the geometric print-covered fridge to the butcher block counters, but the stove is one of our favorite design details in their build. I fast, that's an area where @slothhighfive really shines – the little details.
View this post on Instagram
THAT LIVED-IN VIBE
One of the most attractive parts of this skoolie is that you can actually imagine living comfortably in it. While attractive and well-designed, it's also just incredibly homey and has a "lived-in" vibe that we love. Like this bed – you can totally imagine just rolling out of bed here and walking down the hall to make coffee, right?
View this post on Instagram
CLASSY STORAGE SPACE
Clever and creative storage is a must in tiny homes, and this is storage done right. When you can hide storage in plain sight with attractive solutions like bins and baskets and totes, it's always a plus. They do double duty, being both decorative and functional. We love this storage wall with bins that blend into the decor while holding a ton of stuff!
View this post on Instagram
DEDICATION TO A THEME
Let's just take a moment to appreciate the dedication to their "Up" theme. From the paint job to this sign on the front to the photo of the two main characters in the bedroom, Sloth High Five used their inspiration liberally throughout the build and decor. They also add quite a few references throughout their Instagram to the film. As a matter of fact, in many of the shots where the TV is seen, you can actually see the movie on the screen! Now THAT'S some attention to detail!
View this post on Instagram
THE COOLEST LITTLE HAMMOCK SWING
We love this hammock swing because A.) we have one in the same place and B.) it's about the cutest one we've ever seen. The white tassels with the black netting? Adorable. But this guy is hugely functional too, adding one more seat to their living area.
View this post on Instagram
SLOTH HIGH FIVE
Sloth High Five, aka the "Up" bus, truly is one of the cutest, coziest little homes on wheels. Check out the rest of their build on their Instagram!
Have a skoolie you think we need to feature? Write to us at info@sincewewokeup.com and let us know!